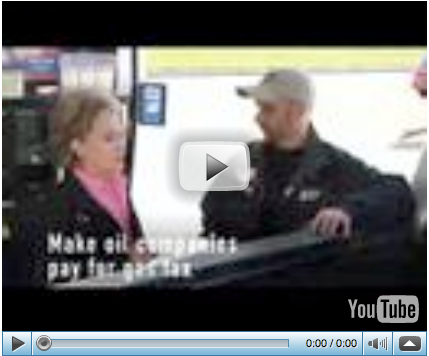 The presidential hopefuls have posted hundreds of Web videos over the last year and a half, but Sen. Hillary Clinton has removed most of hers — positive and negative alike — from her campaign site and YouTube channel.
I had a story about this on today's front page, detailing how the videos were quietly deleted earlier this week.
Sen. Hillary Rodham Clinton has scrubbed all negative ads from her campaign Web site and YouTube page, leaving visitors with only the warm and fuzzy moments from her bid for the presidency.
Gone are the attack ads accusing Sen. Barack Obama of insulting Pennsylvanians, ducking debates and making misleading assertions about gas prices. In their place are some of the campaign's best and most positive ads and multiple "Hillary I Know" testimonials that have a shelf life should the former first lady ever run again.
The whitewashing took place quietly in the past few days as Mr. Obama cut his former rival a check to help relieve her campaign debt and as the Clinton family moved to fully embrace Mr. Obama as the presumptive Democratic nominee.
Read my full story here:
http://www.washingtontimes.com/
news/2008/jul/02/clinton-attacks-against-obama-vanish-web/
A Clinton spokesman told me the videos are probably archived. I spoke to a reporter earlier who pointed out that she hopes so, for history's sake.
Not to mention it's a huge headache for bloggers, since every video they linked from the Clinton YouTube page will display that error above instead of play.
But as of today, Clinton's "Bitter" ad - gone. The 3 a.m. ad - gone. Even happy ads like this one where Clinton answered questions from voters have vanished.
— Christina Bellantoni, national political reporter,
The Washington Times
Bookmark my blog at http://www.washingtontimes.com/weblogs/bellantoni
and visit my YouTube page at http://youtube.com/bellantoniwashtimes