Washington politicians are so anti-gun that they oppose a mere photo of a paper target. With D.C.'s gun-grabber laws under fire and pressure rising to allow concealed carry, the city's liberal political establishment is panicking.
The National Shooting Sports Foundation (NSSF) put up a billboard in July at 13th and L Streets, N.W., that says, "Hey D.C. — It's time for your first shot," with the organization's website and a photo of a woman holding a red, shot-out bulls-eye. The advertisement is for the NSSF First Shots, which are free safety-and-training seminars.
Mayor Vincent Gray fired off an attack on the sign, calling it "offensive" and "irresponsible." According to NBC4, the Democrat complained, "To promote the use of guns in the city I think really is just anti-safety."
"His reaction is sadly predictable — a knee-jerk, anti-gun reaction to anything firearms," responded NSSF General Counsel Larry Keane. "I don't see how the billboard or people going to a First Shots program to learn about firearms safety threatens the public safety of Washington or in any way encourages anyone to violate the draconian laws of D.C."
Mr. Keane said, "We have a suggested summer reading list for the mayor: the Bill of Rights and the Heller decision." CLICK HERE TO READ THE REST OF THE STORY.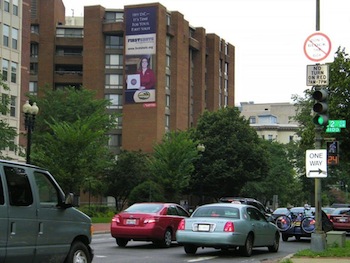 Emily Miller is a senior editor for the Opinion pages at The Washington Times.Her "Emily Gets Her Gun" series on the District's gun laws won the 2012 Clark Mollenhoff Award for Investigative Reporting from the Institute on Political Journalism.You can also follow her on Twitter and Facebook.