After days of calls, emails, tweets, comments and posts, I finally bought the exact gun I wanted, the two-tone version of the Sig Sauer P229 9mm. I'm so excited to shoot my new purchase, but in the nation's capital, it's not that simple. Buying a gun doesn't mean you get to have the gun.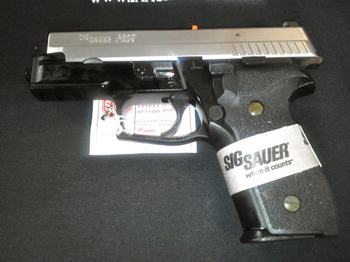 Washington, D.C. has a list of firearms that are eligible to be registered. The make, model and even the color (two-tone) of the gun I wanted was on the list, but I had a bear of a time finding one with a D.C.-legal 10-round magazine. The standard version has a 13-round capacity.
I called Sig Sauer's customer service number to ask for help finding a dealer who had the model I wanted in the lower-capacity magazine.
The agent, Andy, said that he could not help me find a dealer. I asked if the the P229 was made with the 10-round magazine or could be switched out to it. He said, no.
Andy was wrong, and many people following my story called the company to complain about the incorrect information.
Luckily, kind Second Amendment supporters came to the rescue, sending links to guns that matched my needs. In calling the stores, I found they were out of stock or would take a week or weeks to get, and I've waited long enough. Some, like GrabAGun.com, were at the SHOT show all week and got back to me too late.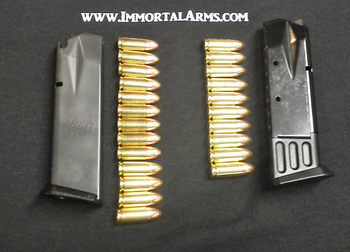 At the same time, gun enthusiasts at the Las Vegas gun convention discussed my plight, talked to dealers and sent advice.
Through comments on our website, Facebook and Twitter, I was assured that the low- and regular-capacity magazines were interchangeable on this model.
The two magazines are almost impossible to tell apart unless you look inside and see the one has space for three less rounds. (Look at the photo at left of the two magazines for the P229, the ammunition shows you which one is legal in D.C.)
Nevertheless, without the 10-round magazine inserted into my gun, I can't have it sent to Charles Sykes, D.C.'s one gun dealer. So I needed to find a dealer willing to make the switch before sending.
While the best prices were available from online dealers, I learned that they often just ship boxes from warehouses and are unable to do any kind of modifications to an order, even something as simple as switching out a magazine.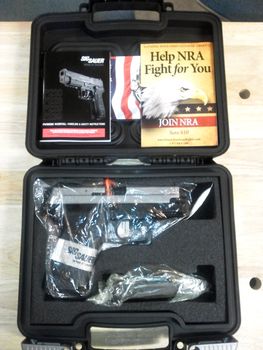 At this point, I'd done enough research to write a Ph.D. thesis on finding a D.C.-legal P229. It is absurd that the District's registration system makes things this complicated. If it weren't for this platform and the generosity of gun enthusiasts , I am sure that I would have bought the wrong gun and not been able to return it. I'm grateful for the help.
Three dealers, however, realized that making a sale would just mean offering to get the magazine and the gun quickly and do the swap for me. They all contacted me through my Facebook page. I called Kyle's Gunshop in Cincinnati and two Virginia stores, Guns & Ammo Warehouse in Manassas and Immortal Arms in Culpeper.
In the end, I went with Immortal Arms because it is local and the price was the best, $781, which included switching the two 13-round magazines for two 10-round ones and shipping.
The owner, Mark Attanasio, is a disabled U.S. Army veteran, who started the appointment-only business in 2010. He'd been following my series on getting a legal gun in D.C. and posted to my wall when he saw my troubles in the search for a D.C.-legal Sig.
Mr. Attanasio said he'd have the gun in in two days. He apparently assumes that speed of delivery would be a selling point, as it is for Virginia citizens, but it doesn't matter much for a D.C. resident.
And, that is the "but" in this story. Although I have paid and ordered the gun, I can't take possession of it until it is transferred to Mr. Sykes, and I get an approved registration certificate.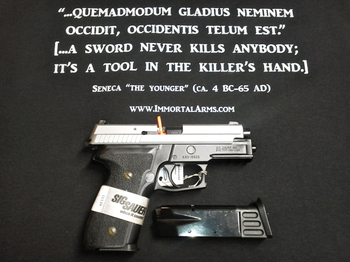 In order to get this certificate, I still have to do the following: take a written test on the city's firearm laws; get Mr. Sykes to fill out the application form; have the eligibility form notarized; get two passport photos and prove that my eyesight is better or equal to the driver's license requirement (20/70 in best eye and field of vision of at least 140 degrees).
Next, I have to take all the forms to the registry office; pay $60 in fees; wait five days for the application to be approved; wait an additional five days for Mr. Sykes to be able to release my gun; and take the gun to the police for a ballistics test.
Finally, if I pass all of these steps, I should be able to take possession of the gun that I already bought.
Next up in the series: Transferring a gun into D.C.
"Emily Gets Her Gun" is a series following senior editor Emily Miller as she tries to legally get her hands on a gun in the nation's capital. You can also follow her on Twitter and Facebook.