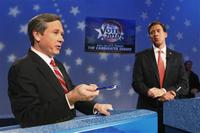 Two polls released this past weekend showed that Republican Rep. Mark Steven Kirk continues to a hold a slim lead over Democrat Alexi Giannoulias for Illinois' open Senate seat, though most political experts say the contest is still too close to call.

Kirk holds a 44 percent to 41 percent advantage over Giannoulias in the race to fill the seat of the retiring Democratic Sen. Roland Burris, a Chicago Tribune/WGN survey says. The result fell within the survey's 3.7 percentage-point margin of error. Another 7 percent of respondents were undecided.

A Tribune poll taken about four weeks ago showed Giannoulias, Illinois' treasurer, holding a 2 percentage-point lead over Kirk, with 17 percent reported as undecided. Kirk has used his cash advantage to run a barrage of television advertisements since then.

In a St. Post-Dispatch/KMOV-TV poll, Kirk was ahead of Giannoulias 43-41, well within the poll's margin for error.

A possible bright spot for Giannoulias in the Post-Dispatch/KMOV poll is the breakdown of the undecided votes. Just 6 percent of Republican respondents say they are undecided, whereas 23 percent of Democratic respondents are undecided, according to the survey, which was conducted by Mason-Dixon Polling & Research.