Wizards swingman Caron Butler will throw out the ceremonial first pitch at Tuesday's Nationals game at 12:35 p.m.
It will mark the second appearance on the mound in the District for Butler and the third of his professional career. In 2003 he threw out a first pitch for the Florida Marlins and on June 24, 2007, he threw out the first pitch for the Nationals.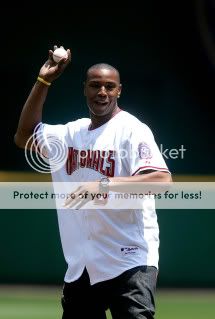 (TWT photo by Katie Falkenberg)
If you recall, that time with Nationals didn't go so well. Butler's pitch didn't even make it across the plate. On exit interview day last month, Butler said he was hoping to throw out another pitch for the Nationals and said this time, he planned on redeeming himself.
Stay tuned … Good luck, Caron!