Some thoughts and observations about the Redskins' offense after re-watching the television broadcast of Washington's 30-17 preseason win over the Indianapolis Colts:
QB Robert Griffin III made some fantastic throws rolling to his right. Coaches and analysts have lauded Griffin's accuracy on the run, but he has been somewhat inconsistent this summer.
The 4-yard touchdown to WR Santana Moss was a sharp pass. He put the throw out in front of Moss and away from the safety, who was trailing Moss' out cut. In the first quarter, Griffin converted third-and-3 with an 11-yard completion to WR Joshua Morgan on the run. Griffin sensed pressure from the right edge, and when RT Tyler Polumbus turned surging OLB Jerry Hughes inside, Griffin extended the play by running to his right. Morgan was beyond the first down marker, and Griffin threw accurately and strongly to get the ball there before the defensive back broke up the play.
When Griffin is that sharp on the run, he is virtually unstoppable because any broken play could be a positive one. He has the ability, but consistency is the key.
***
Griffin's speed sprinting out on the 4-yard touchdown to Moss gives the Redskins' offense a new dimension. He can change the point of attack without much trouble. That's a weapon Mike and Kyle Shanahan are expected to take advantage of regularly.
The touchdown pass was a play we've seen before. The Redskins ran the same formation and same play from the same yard line and the same hash mark (left) in last season's finale against Philadelphia. (If you recall, Moss was flagged for unsportsmanlike conduct after he took off his helmet to protest the referee's decision not to call pass interference or holding against Eagles CB Joselio Hanson.)
I pulled a couple screen grabs for comparison's sake. Take a look below. QB Rex Grossman was two steps inside the right hash marks when he released the ball on that play in January. Griffin, on the other hand, was a step outside the hashes against Indy. That's a difference of about eight feet – a considerable distance that aids Griffin's attempt to place the throw outside away from the defender.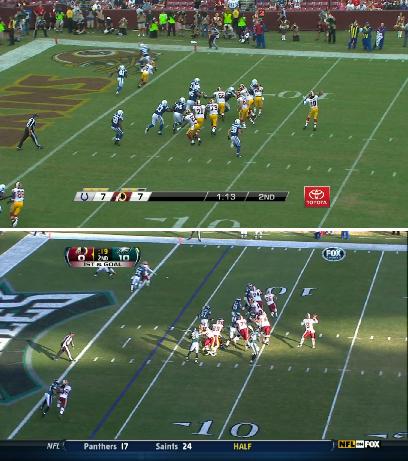 ***
Griffin deserves high marks for toughness. He stood in the pocket and sacrificed his body to make some throws.
He was absolutely drilled on third-and-1 on the first series. Someone failed to pick up ILB Jerrell Freeman's blitz, and there had to be tense nerves on the Redskins sideline before Griffin picked himself up off the turf. On the first touchdown drive, Griffin completed a 16-yard pass to WR Pierre Garcon over the middle despite taking a hit that affected his follow through.
***
RB Alfred Morris' performance changes the conversation about him. We're no longer talking about him making the team. We're wondering if he'll start Week 1 against New Orleans. That's a lot to ask from a sixth-round rookie, but, as Mike Shanahan said after the game, Morris might be the only healthy back on Sept. 9.
That's looking a bit too far ahead. For now, let's just say Morris played a well-rounded game Saturday. He benefited from exceptional blocking against a Colts defense that is in rebuilding mode as they shift to a 3-4 under new coach Chuck Pagano.
Morris again was physical and finished his runs well. He stays low and runs through contact. He gained four yards after contact on his 5-yard carry to begin the game. He also showed some wiggle in the open field when he juked CB D.J. Johnson near the Redskins' sideline. Morris' feet were so quick that he never slowed down.
Morris was pleased with his pass blocking, which was better this week after his breakdown against Chicago resulted in the sack-fumble.
On QB Robert Griffin III's deep overthrow of WR Leonard Hankerson, Morris stuffed a charging linebacker in the hole after the linebacker beat FB Dorson Boyce.
"Even though it's not my man, per se, coach always says never pass up color," Morris said. "When I'm looking for my read, I'm going through my progression. Now, oh, I see color. I'm hitting it. There was a number of times I got to do that today."
Morris is getting more comfortable timing how long he should stay in protection and when to release into a pass route. That's huge for him because pass protection will go a long way toward determining his playing time. He has proven he can run the ball; pass protection distinguishes these backs from the others.
"A lot of teams, they do it real slow," Morris said. "I watch some other backs and am like, man, they're doing it slow. But our coach makes sure we have a pace. We have to be able to read our book – as he likes to call it – real fast and get out on your route. But if color flashes, we've got to play the started. If I were to pass up that color, he might get a sack on the quarterback and we won't have a play. If I'm free, I get out either a check down or the flat or a wheel or whatever the route is."
I wrote about Morris for Monday's paper. You can read the story here.
***
WR Pierre Garcon had some critical downfield blocks in the running game. The Redskins during the offseason billed WR Joshua Morgan as a blocker more than they did Garcon, but Garcon has been very good throughout the preseason.
On RB Alfred Morris' 18-yard run, Garcon ran from his position wide left to block the safety. He keeps his legs churning, which helps him stay square and drive his defender back. So often you see a wide receiver content with simply engaging a defender; Garcon constantly tries to drive him back.
If Garcon is exceeding his reputation as a blocker, the opposite was true on the two incomplete deep balls. He is supposed to be the Redskins' main deep threat, but he and Griffin failed to connect.
On the first play of the game, Garcon had a step on CB Jarraud Powers, but Powers slowed him just enough with a right-handed shove that the pass was out of Garcon's reach. (The contact was beyond the 5-yard buffer zone, but it was subtle.) On the second deep attempt, Garcon didn't separate from CB Cassius Vaughn. Perhaps more creative route concepts during the regular season, when the game-planning is complex, will help free Garcon deep.
***
Two of C Will Montgomery's shotgun snaps floated too slowly back to QB Robert Griffin III. One of them occurred on the 4-yard touchdown pass to WR Santana Moss. That's a timing play, but Griffin did well to make up for Montgomery's gaffe with his speed on the sprint out.
Montgomery's shotgun snaps were problematic at times last year, too. They say repetition in practice is the cure, but it's still an issue.
Montgomery lost his footing on a first-quarter screen pass that had potential for a big gain because the Redskins had numbers out in space. LG Maurice Hurt also missed his block on a defender, though, so there were multiple breakdowns.
On the plus side, Montgomery swallowed a linebacker on a 7-yard run by RB Alfred Morris early in the second quarter. On Morris' 17-yard run down to the Colts' 2-yard line, Montgomery got off the ball fast and got to NT Antonio Johnson's outside shoulder on a run to the right. He ran Johnson off the line of scrimmage, which helped Morris get upfield.
***
Several Colts blitzes got to the quarterback. QBs Robert Griffin III and Kirk Cousins took vicious shots from defenders running free. It's tough to say who blew their assignment without hearing it from coaches or players, but that has to be fixed.
***
Blocking success was mixed for a bunch of guys. TE Fred Davis, RT Tyler Polumbus, LG Maurice Hurt and RG Chris Chester had many good moments and some bad ones against a lousy Colts defense. I'll keep it positive because that's the kind of mood I'm in:
On RB Alfred Morris' 17-yard run around the right side, Davis hooked OLB Jerry Hughes with help from TE Chris Cooley on a combo block. Cooley helped Davis capture the edge and then climbed to a linebacker, which got Morris up the field after he got around the corner. Davis did well to get his hips around and turn his shoulders parallel to the sideline to secure the lane.
Polumbus was patient against one pass rush by OLB Dwight Freeney, who switched sides throughout the first half. Freeney tried a hesitation move against Polumbus, but Polumbus didn't get overextended. Polumbus can get into trouble by reaching, but patience won out on that particular play.
Chester actually pulled Morris into the end zone for the Redskins' first score. He drove DT Ricardo Mathews a yard off the line of scrimmage, and then when Morris tried to surge between Mathews and him, he bear-hugged Morris and pulled him across the goal line.
On Morris' 2-yard score, Hurt chipped DE Fili Moala before getting to ILB Jerrell Freeman. Hurt knocked both of them off their paths to the ballcarrier, and they didn't affect the play.
***
WR Joshua Morgan used his body well in leaping for both of his receptions. He kept the defender on his back and held on to the ball despite contact. We've seen Redskins receivers drop passes against contact during this preseason – Anthony Armstrong did so Saturday and Brandon Banks did it against Buffalo – but Morgan's hands were exceptional. His 6-1, 220-pound frame is an asset in the air.
Morgan said afterward he is finally playing without pain in his surgically repaired right leg. He replaced Leonard Hankerson with the first-string at one point during the first half.
***
Three games into OT Jordan Black's attempt to resuscitate his career, he just might be the Redskins' best swing tackle not named Mo Hurt. Hurt seems to be a lock to make the 53 because he can play guard and tackle. Josh LeRibeus is a third-round pick, so it'd be stunning if he didn't make the team. If the Redskins keep eight linemen, that leaves one spot. Willie Smith is practice-squad eligible, so it might come down to Black or fifth-round rookie RG Adam Gettis. Of course, no one would be surprised if the Redskins' final roster includes an offensive lineman that's currently in another team's camp.
***
WR Dezmon Briscoe would be a tough cut if it comes to that. With six touchdowns for Tampa Bay last season, he's clearly better than the second- and third-string competition he has played against during the preseason.
Briscoe fell out off favor in Tampa Bay because of off-the-field issues and poor conditioning, not talent. As he showed Saturday, his route running, hands and ability to adjust to an underthrown pass are traits that can help the Redskins. Mike Shanahan said Briscoe might play special teams in Wednesday's preseason finale against Tampa Bay. If Briscoe could contribute on teams, it'd be even more difficult to keep him off the final 53.
***
Both of WR Terrence Austin's receptions converted third downs. He set up the defensive back on the first catch by stemming his route to the left before cutting hard back to the right. Austin says he has significantly improved the quality of his routes in his two-plus NFL seasons.
He might be one of the odd men out in the receivers competition, but he's good enough to catch on with another team. It's a sign the Redskins are improving the quality of their depth. Selfishly, I'd like for Austin to stick around. He's a smart guy who has articulated well what it takes to develop as a receiver.
***
QB Rex Grossman was accurate and on time with most of his throws. His quick releases and decisiveness helped compensate for a second-string offensive line that broke down in pass protection at times. Against a defense as shaky as Indianapolis', Grossman was comfortable finding favorable matchups and exploiting coverages. He's a capable backup the Redskins will be very thankful is on their roster, especially if Griffin is exposed to a lot of contact.