Robert Griffin III's 22-yard touchdown pass to Santana Moss in the third quarter against Philadelphia last Sunday was one of his best throws of the season. It wouldn't have been possible, though, without the Redskins' exceptional pick-up of Philadelphia's defensive end stunt as part of a 6-man blitz.
Center Will Montgomery and running back Evan Royster, in particular, ensured Griffin had a clean pocket from which to perfectly loft a throw to Moss.
"We prepare for that stunt all the time," Royster said this week. "It's called a 'goose stunt.' We see it every day in practice, I swear. When we get four guys blitzing to the weak side, the back has got to come over and help the offensive line."
That's exactly what happened on third-and-10 from the Eagles' 22. Let's break it down:
1. Before Montgomery snapped the ball, he recognized linebackers DeMeco Ryans (59) and Mychal Kendricks (95) in the 'A' gaps. And notice how he looked left, to the weak side of Washington's formation, to check on right defensive end Trent Cole (58) and cornerback Brandon Boykin (22, just outside of picture).
From film study and playing experience, Montgomery expected Cole to loop underneath defensive tackle Derek Landri (94) and Ryans.
"I yelled out the stunt before they ran it," Montgomery said.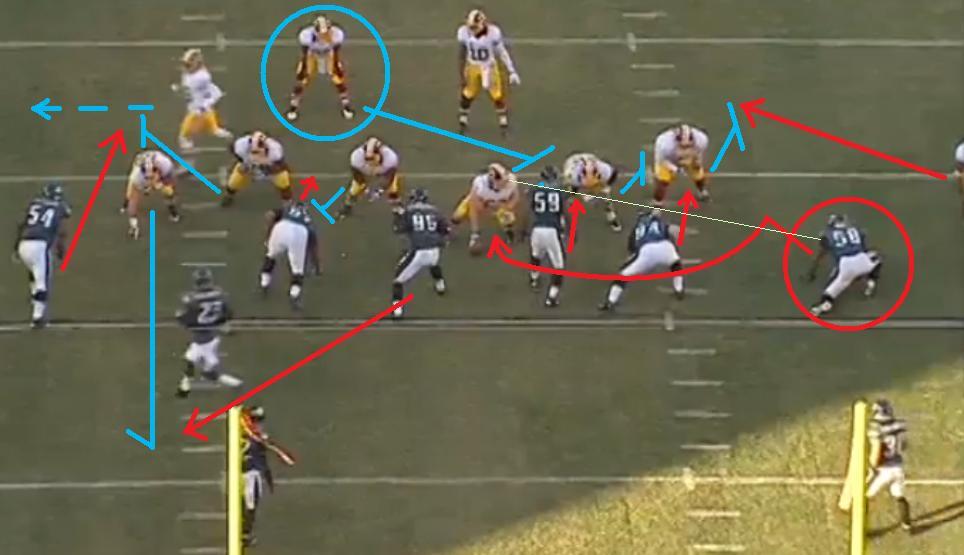 When did he recognize the blitz?
"Right when they lined up in it," Montgomery said. "They do that. It's a very common blitz."
Royster (circled in blue) was prepared for it, too.
"Will usually does call it out," Royster said. "Away games, I usually can't hear him. Usually when I see there's two guys…in the 'A' gap, the first thing I think is 'goose stunt.' That's the one that came, and we just picked it up."
2. Immediately after the play began, Royster tracked Ryan's push between Montgomery and left guard Kory Lichtensteiger. Cole (58) tooks a hard step up the field before changing direction and looping underneath.

3. Even though Montgomery was engaged with Ryans, he looked wide left to read Cole stunting underneath. Royster continued to move toward Ryans, knowing Montgomery would pass Ryans to him just before Cole arrived.
"I saw nobody on my side; I saw four guys coming weak, so I just went over and sat in that gap," Royster said. "Will passed off the guy to me, and he picked up the looper. It's like a daily thing for us. We do it every day."

4. Montgomery shoved Ryans hard with his right hand to pass Ryans off to Royster and to push off as part of redirecting to block Cole stunting underneath.
"It's a common stunt for defenses to run," Montgomery said. "They have one of the linebackers come up in the 'A' gap. He just was blitzing. The 3-technique, the guy on the outside shoulder of the guard, is rushing out. The end comes all the way to the backside 'A' gap. So I passed off the linebacker, and I got the looping end."
Royster, meanwhile, read the stunt.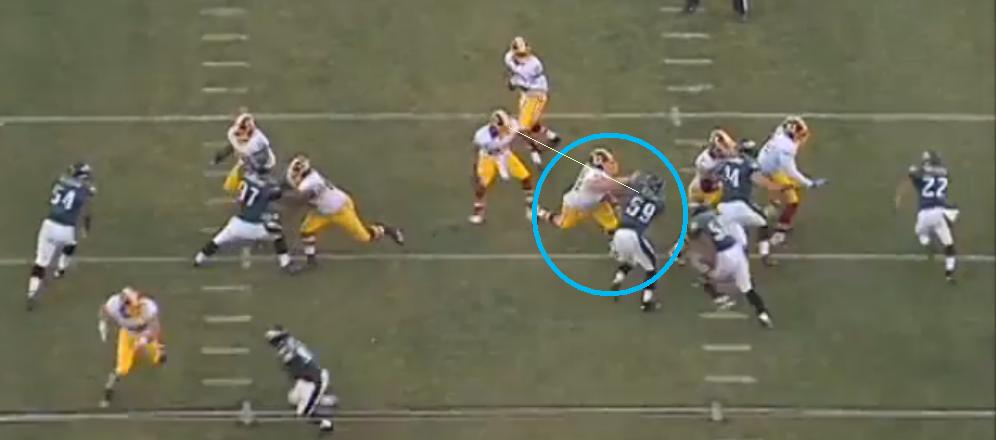 5. Montgomery seamlessly passed Ryans off to Royster and positioned himself to block Cole. Left tackle Trent Williams accounted for Boykin (22) on the right cornerback blitz. The Redskins accounted for all six Eagles blitzers. Robert Griffin III was able to read the field comfortably.

6. Royster's blocking technique was good enough to stop Ryans. His base was wide, his shoulders were squared, his head was up and his pad level was lower than Ryans'.
"It's kind of the role I've come into this year, being the third down back," Royster said. "I'm still trying to get better at it. I've messed up at times this year, but I'm still getting better. I'm improving, and I think that's a good sign."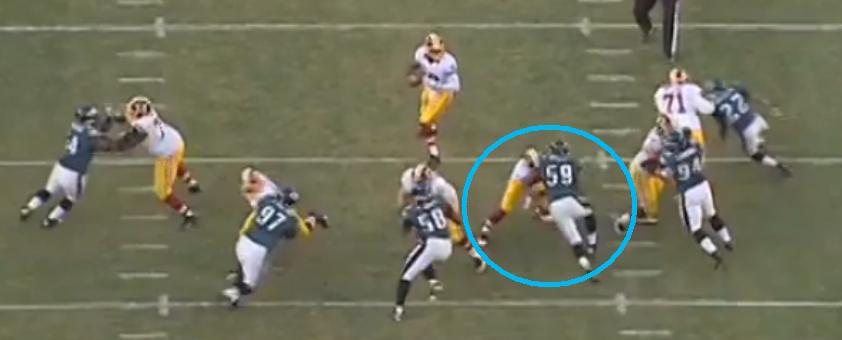 7. Griffin had space to make his read, step and throw. The pass was perfectly accurate, landing in Moss' lap with just enough room for Moss to get both feet in bounds for a touchdown that provided the decisive margin.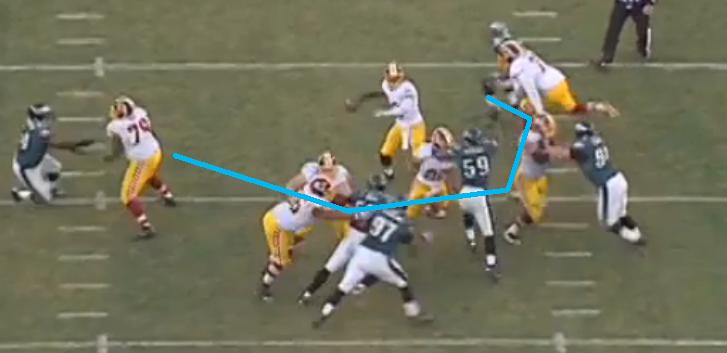 "We just did our jobs on that play, I guess," Montgomery said. Watch it again at full speed.
Players on both sides of the ball have done their jobs more effectively during the last six games, and it's the biggest reason why the Redskins will play for the division championship on Sunday night. Also, credit the coaching staff for preparing players for the Eagles' blitz.