The Redskins' three-game winning streak has lightened up the locker room and the fan base. Levity leads to laughter, which explains the latest RG3 meme following Monday night's victory over the New York Giants.
Robert Griffin III fumbled in the first quarter, but he backhanded the loose ball to receiver Josh Morgan, who caught it out of midair and ran the final 13 yards into the end zone for a touchdown.
It was the second time this season Griffin has fumbled and a Redskins receiver has recovered for a touchdown. Recall it happened early in Washington's 24-22 victory over Tampa Bay in Week 4.
Someone had some Photoshop fun with Griffin serving up fumbles for touchdowns, and they created this meme, a parody of Dos Equis' "Most Interesting Man in the Word" advertising campaign. Funny stuff.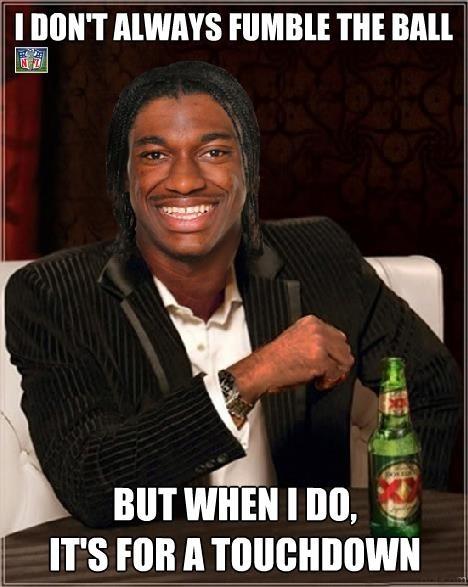 Something that's not so funny for Redskins fans: Griffin's 10 fumbles this season are tied for second-most in the NFL. Only San Diego quarterback Philip Rivers has fumbled more (11 times). Griffin has lost only two, though.