ANALYSIS/OPINION
A review of the best and worst performances by the Washington Redskins' defense and some observations after re-watching the TV broadcast of their 31-28 loss to the St. Louis Rams.
GAME BALLS
CB JOSH WILSON: Wilson stood out for several positive plays in an otherwise sour game for the secondary. He was opportunistic on the first play of the game, scooping WR Danny Amendola's fumble and returning it 30 yards for a touchdown. Wilson began the play covering WR Steve Smith wide left, but he peeled off when he recognized the quick pass to Amendola, the slot receiver, in the left flat. He dove to help force Amendola back inside toward the defensive pursuit, and he quickly rose from the turf to recover the fumble and turn it into seven points.
Wilson also saved a touchdown on the next series by recovering well on WR Brandon Gibson's corner route. When Wilson is in a position where he can't see the quarterback or the ball, he reads the receiver's eyes. A receiver's eyes always indicate when the ball is about to arrive, he said earlier this season. That's what he did on first-and-10 from Washington's 15-yard line.
Gibson started up the field and then faked Wilson inside with two hard steps. When Gibson broke out to the back corner of the end zone, Wilson opened hips inside and turned his back to QB Sam Bradford to recover.
And, staying true to his technique, Wilson played Gibson. When Gibson reached for Bradford's perfectly thrown pass, Wilson knew to extend his arms. With his left hand, Wilson shoved Gibson just enough for Gibson to come down out of bounds. That saved a potential touchdown, and the Redskins surrendered only three points on the drive.
Wilson got the Redskins off the field on third-and-2 on St. Louis' third series by recognizing a swing pass to the left and getting RB Daryl Richardson out of bounds a yard short of the line-to-gain.
He also saved a touchdown in the second half when he chased Richardson down from the other side of the field on Richardson's 53-yard run. The collision on the right sideline was so high-impact that Wilson suffered a concussion, but ILB London Fletcher intercepted Bradford in the end zone on first-and-goal from the 6 on the next play.
DE STEPHEN BOWEN: Bowen again was in fine form, impacting the passing game and run defense with his power at the line of scrimmage. He overpowered third-string LG Quinn Ojinnaka with bull rushes on several passing plays; there'd be something wrong if Bowen failed to dominate that level of competition.
Bowen sacked QB Sam Bradford on first-and-10 late in the third quarter by exploding into Ojinnaka's chest and collapsing the pocked from inside. OLBs Ryan Kerrigan and Rob Jackson collided with each other after using outside rushes to get to the quarterback. Bradford tried to step up, but Bowen was there for the sack. Bowen also forced an incompletion by pancaking Ojinnaka with a bull rush.
Bowen batted down a screen pass on the Rams' first offensive play of the second half. That makes three batted passes for him in two games this season.
When the Redskins needed to get the ball back in the fourth quarter and started keeping eight in the box to stop the run, Bowen split a double team by LT Wayne Hunter and Ojinnaka and tackled RB Daryl Richardson for no gain.
Bowen was penalized for being offsides on second-and-8 with 3:40 remaining, but the call was bogus. C Rob Turner obviously flinched and drew Bowen off. It was one of many blown calls.
GASSERS
ILB PERRY RILEY: Riley did some good things – none better than hustling to force WR Danny Amendola to fumble on the first play of the game – but his failed block against TE Matthew Mulligan on the blocked punt in the third quarter clinched his place on this list.
"Some person was more concerned with coverage than they were protection, and all of sudden you take off too quick and there's another mistake," coach Mike Shanahan said. That person was Riley, the replay shows.
The Rams had six defenders on the line of scrimmage; three on each side of LS Justin Snow. Riley already turned his shoulders to release down the field as Mulligan engaged him after the snap. It was a different type of mistake than LB Chris Wilson's missed assignment on the blocked punt against New Orleans, but it was just as costly. The Rams scored the decisive touchdown four plays later.
St. Louis converted third-and-11 early in the second quarter with a 19-yard completion that appeared to exploit Riley in zone coverage. Riley backpedaled five yards after the snap but then came forward to chase RB Steven Jackson in the left flat. Meanwhile, CB Josh Wilson, who had lined up on the left side, had that harmless area covered. When Riley vacated the middle of field, a throwing lane opened for QB Sam Bradford to find WR Brandon Gibson beyond the line-to-gain. The Rams extended the drive and finished it with a field goal.
Riley missed tackling WR Steve Smith after a quick out to the left sideline, and Smith gained 19 of his 25 yards on the play after Riley missed. Riley tried to wrap Smith up, but Smith was low and running behind his shoulder pads. Riley just flew past him. Riley in the slot over a wide receiver was a mismatch Bradford easily exploited. He anticipated Smith being open out of his break and delivered the ball on time and accurately – a theme of the game.
CB CEDRIC GRIFFIN: WR Brandon Gibson beat Griffin with a double move for a 34-yard touchdown that gave St. Louis a 23-21 lead early the third quarter. Gibson began his route up the right sideline after Griffin backed off the line of scrimmage just before the snap. Gibson faked in with a hard step at 10 yards, and that coincided with QB Sam Bradford's pump fake. Griffin took the bait, and Gibson sprinted past him. Bradford's perfect throw to the outside resulted in an easy touchdown.
The Rams converted third-and-8 on their first touchdown drive with a completion from Bradford to TE Lance Kendricks against Griffin and FS Madieu Williams in zone coverage. Griffin lined up near Kendricks with outside leverage. Kendricks ran straight ahead to the line-to-gain, stopped and turned for the ball. Griffin, meanwhile was either looking in at Bradford or perhaps waiting to see if RB Steven Jackson released on a pass route. Williams, meanwhile, was eight yards deeper than where Kendrick stopped – no position to prevent a completion. Bradford threw before Kendricks turned, and neither Griffin nor Williams arrived in time to prevent the first down.
WR Danny Amendola beat Griffin on a shallow crossing route for the first of St. Louis' seven third-down conversions in the game. Griffin lined up in press coverage against Amendola inside the numbers on the right side of the field, and he was flat-footed when Amendola quickly broke in after the snap. Amendola is difficult to jam because he's so shifty, and Griffin wasn't effective.
One positive play by Griffin: He shed a receiver's block to tackle RB Daryl Richardson, who had caught a swing pass, near the sideline at the 1-yard line on the last play of the third quarter. St. Louis, however, scored on the next play.
CB DEANGELO HALL: Hall faced the difficult challenge of covering WR Danny Amendola out of the slot, and it didn't go so well. Hall's ability to change direction was repeatedly tested with mixed results. Hall pressed Amendola on St. Louis' second play from scrimmage, and he was penalized for holding when Amendola made his second break. Three plays later, Amendola had a free release and caught a 15-yard pass down the seam; he was open to the inside after faking Hall with a jab step out.
There were plays on which Hall was not close enough in coverage because he either was looking in at QB Sam Bradford or he didn't anticipate a receiver's break or Bradford's throw. Bradford converted third-and-2 at the Redskins' 10 on the St. Louis' second field goal drive with a throw to Amendola on quick out from the right slot. Hall was looking in at Bradford as Amendola cut out, and he was not in position to prevent a completion.
Here's a picture of that third-and-2 play. Notice Hall looking into the backfield while Amendola breaks away from him: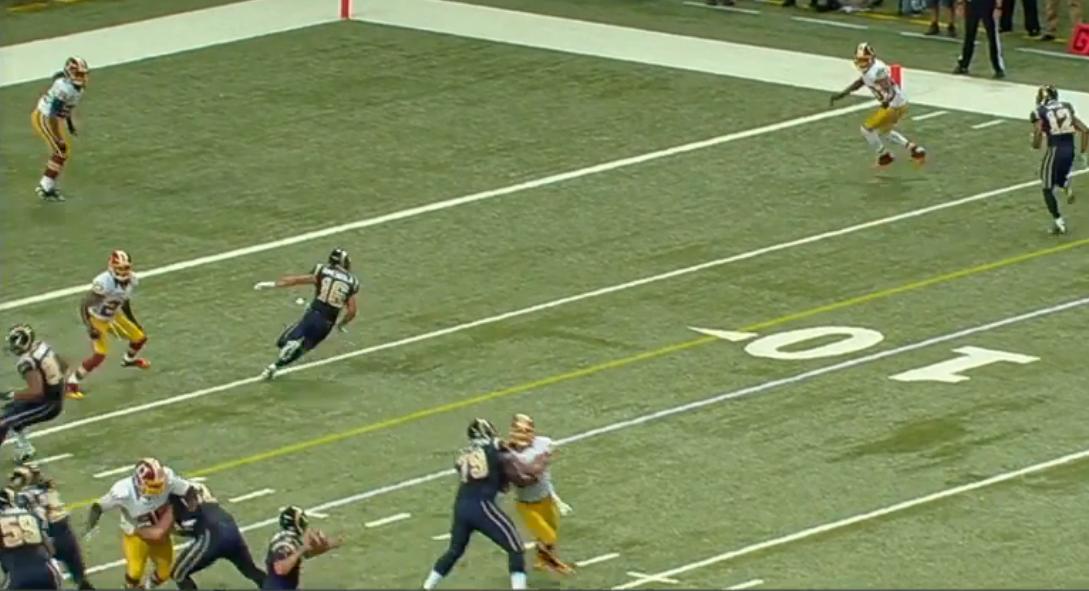 Hall's arm tackle attempt did nothing to slow RB Daryl Richardson on a 53-yard run down the right sideline in the second half. WR Brandon Gibson's block against him was good, though, and Gibson released Hall just in time for it not to be an illegal hold. Overall, Hall's tackling was OK. He had two tackles for a loss, and he even made a tackle covering the second kickoff of the game, which the official statisticians credited to LB Lorenzo Alexander.
OBSERVATIONS
Play of the Game: Third-and-5 from the Redskins' 19-yard line. 0:29 Third quarter. 28-23, Redskins.
St. Louis extended the game-winning drive with an 18-yard swing pass to RB Daryl Richardson that set up the decisive touchdown. The Rams had a perfect play call against the Redskins' defense. They used four receivers; three lined up wide left, which opened the field for Richardson in the right flat. Even worse for the Redskins, they rushed six – including ILB London Fletcher and CB DeAngelo Hall blitzing off the left edge of the offense – against a five-man protection. That weakened Washington's ability to pursue Richardson after the catch. Richardson would have scored, but CB Cedric Griffin shed WR Brandon Gibson's block at the 5-yard line and made the tackle by himself.
***
First-and-goal from the 1 is a losing situation for any defense, and QB Sam Bradford's play-action fake beat the Redskins' linebackers on the decisive touchdown. Rookie LB Keenan Robinson did not run with TE Matthew Mulligan when Mulligan released on a pass route from the right end of the formation. (On the other side of the formation, LB Chris Wilson did run with the tight end.) Robinson chased Bradford into the backfield, as did LBs Perry Riley and London Fletcher. Mulligan was uncovered in the back of the end zone, and by the time Robinson realized it, it was too late. Easy touchdown.
***
The Redskins did mix up zone and man-to-man coverages, and they did revert to man coverage in the second half after zone proved ineffective. Many factors, however, contributed to the Redskins' struggles in pass defense.
There were plays on which Redskins defenders didn't cover receivers in their zone. Sometimes they were caught looking at the quarterback. Sometimes they were out of position (linebackers were shallow after play action on WR Danny Amendola's 56-yard catch and run) and sometimes they were too late closing on receivers. Also, the lack of pressure on Rams QB Sam Bradford made coverage more difficult at times. For example, Bradford took 3.6 seconds to throw on Amendola's 56-yard reception, and no one was near him.
Bradford deserves tons of credit for quick throws that compensated for a banged up offensive line. He also did a phenomenal job of anticipating when receivers would be open. Most of his throws were on time, and many were located so as to give receivers an opportunity to gain yards after the catch.
***
The final rushing stats are ugly – St. Louis had 151 yards on 27 attempts, a 5.6-yard average – but 94 yards resulted from only four runs. Take away the Rams' runs of 53, 20, 12 and 9 yards, and Washington held them to 57 yards on 23 attempts, a 2.5-yard average. Of course you can't disregard the big chunk plays, but it's worth noting with regard to evaluating the run defense. It actually was OK for most of the game.
St. Louis's shorthanded offensive line did a solid job of slowing down the Redskins' linebackers and blocking the Redskins' defensive ends inside. The Redskins occasionally hurt their cause by taking bad angles.
On RB Steven Jackson's 20-yard run, ILB London Fletcher was unblocked in his run fit, but he overran the play chasing after QB Sam Bradford instead of pursuing Jackson, who ran through the same hole Fletcher did.
On RB Daryl Richardson's 53-yard run, a receiver ran OLB Ryan Kerrigan out of the play before Kerrigan realized the play was a run and not a pass. Kerrigan was nine yards off the line of scrimmage when he transitioned from pass to run defense. SS DeJon Gomes took an ineffective angle inside Kerrigan on the play, which allowed Richardson to get outside. Fletcher hesitated in pursuit, as he had to dodge FB Brit Miller, whose cut block took out ILB Perry Riley.
***
Rams running backs beat ILB London Fletcher around the edge on two carries, by my count, which is un-London-like. Fletcher's angles and reads usually are reliable. He also was a step too slow in closing on WR Danny Amendola's quick hitch route on Amendola's 1-yard touchdown catch in the first half. That was another throw QB Sam Bradford anticipated and timed perfectly.
Fletcher compensated for that by forcing two turnovers. His second-half interception in the end zone kept the Redskins in the game. Bradford made a rare poor decision on that one. Fletcher's forced fumble in the fourth quarter gave Washington new life and prevented the Rams from running out the clock. Fletcher properly wrapped RB Daryl Richardson up and forced the fumble by punching the ball loose.
***
The late hit penalty against Fletcher in the first quarter was an incorrect call. WR Danny Amendola was still in bounds, but it looked bad because Fletcher hit Amendola so hard at the boundary. It seems the game is too fast for these replacement refs.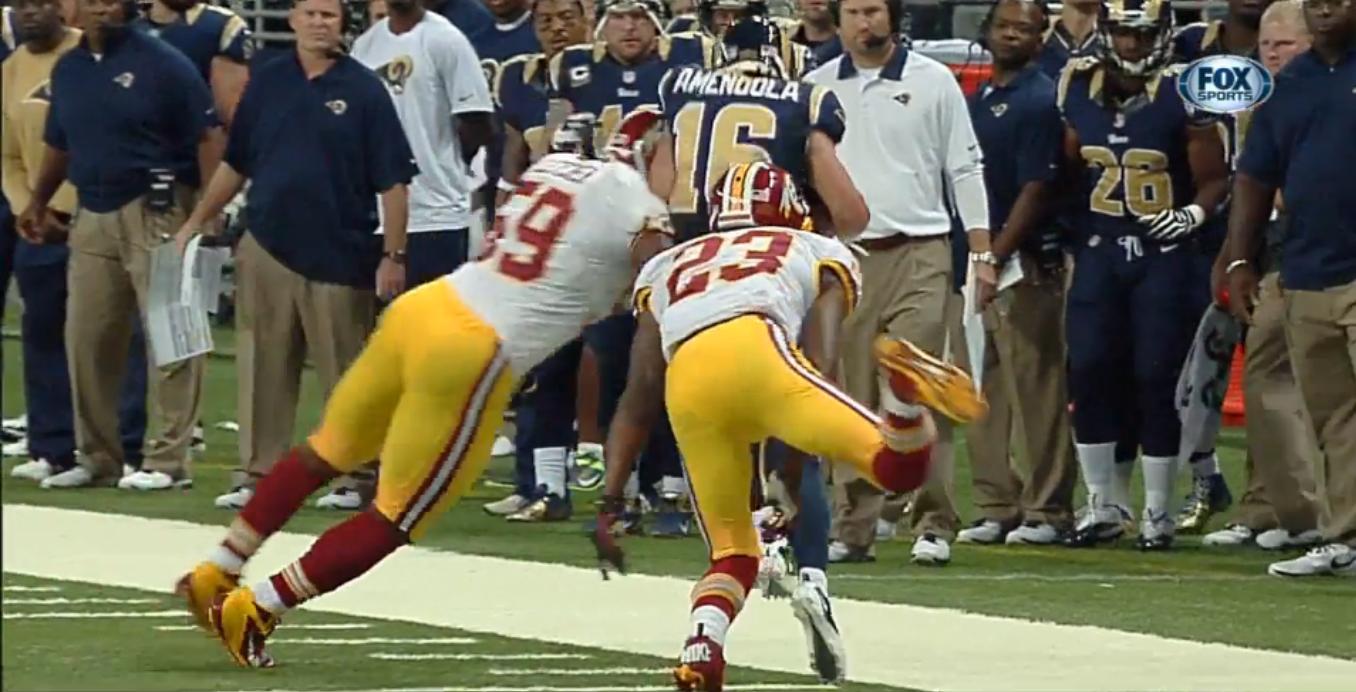 ***
When the Redskins transitioned to a 3-4 defense in 2010 and OLB Brian Orakpo began regularly lining up in a two-point stance, his ability to explode out of it and generate power seemed natural. Whether Rob Jackson can do that will help determine the magnitude of any dropoff now that Orakpo is out for the season. Results against St. Louis were mixed.
On the Rams' 34-yard touchdown pass in the second half, Jackson lined up over TE Matthew Mulligan. When Mulligan stayed in to block, Jackson rushed the quarterback. But Jackson stood straight up after the snap and generated no power. He tried to swipe past Mulligan, but Mulligan stoned him, and Jackson never even got beyond the line of scrimmage. QB Sam Bradford got rid of the ball in 2.4 seconds, which isn't much time for a defender to get home, but Jackson did not impact the pocket at all.
On the plus side, Jackson did draw two holding penalties. On the second, he lined up wide of second-string LT Wayne Hunter. Hunter lunged as he kicked out to engage Jackson, and Jackson took advantage of Hunter's balance problem with a rip move and drew the penalty. Jackson's pressure on the play also forced Bradford to step up into DL Stephen Bowen's sack.
Jackson fought through two tight ends to help make a tackle in run defense late in the game with the Redskins fighting to get the ball back. He was knocked back originally but kept his legs churning and got back into the play.
***
DL Jarvis Jenkins still is not consistently pushing offensive linemen around like he did last summer. Staying low off the ball and maintaining effective leverage is the main point of emphasis. The extent of his progress will be magnified with DL Adam Carriker out for the season.
On RB Steven Jackson's 12-yard run on the last play of the first quarter, RT Barry Richardson displaced Jenkins by engulfing him, lifting him and turning him inside. Jackson ran off Richardson's back side for a big gain.
***
Rams QB Sam Bradford dropped back to pass 38 times.
The Redskins rushed four on 23 dropbacks. On those, Bradford was 17-of-21 passing for 214 yards, two TDs, an INT, a sack and a scramble for 12 yards. His passer rating was 121.0.
The Redskins rushed five on 11 dropbacks. Bradford was 7-of-10 passing for 77 yards and a sack. His passer rating was 92.5.
Bradford threw incomplete the only time Washington rushed three.
He was 1-for-2 for 18 yards when the Redskins rushed six.
Washington rushed eight on first-and-goal at the 1 on the decisive touchdown pass on in the fourth quarter.
***
I counted at least three plays on which LB Ryan Kerrigan lined up in a four-point stance. His sack against New Orleans came out of a four-point stance. For all the progress he's made being explosive from a standing position, he still believes he's more powerful with his hand(s) in the dirt.
Perhaps Kerrigan should have generated more pressure against a shorthanded Rams offensive line. QB Sam Bradford used 3.6 seconds to find WR Danny Amendola for a 56-yard catch-and-run in the second quarter. TE Matthew Mulligan successfully blocked Kerrigan one-on-one on that play. Mulligan anchored with a great base, matching Kerrigan's strength.
***
Rookie CB Richard Crawford covered quite well when he was in the game. He limited WR Danny Amendola to a 2-yard catch out of the slot on second-and-10 in the second quarter. With quick feet, Crawford matched Amendola's fake inside and break out. He closed as soon as the ball arrived and minimized the gain. That might have been the best play against Amendola in the slot all game. It was a promising performance, especially considering Crawford could have an expanded role against Cincinnati depending on Josh Wilson's (concussion) status.
…that's it for the defense. Let me know your thoughts. Leave a comment, email me at rcampbell@washingtontimes.com or hit me on Twitter @Rich_Campbell.