Bengals defensive end Michael Johnson went around second-string left tackle Jordan Black in the first quarter last Sunday for his second sack in as many plays. Black whiffed when he tried to punch Johnson, and it looked egregiously bad, as Johnson easily went around him and crunched quarterback Robert Griffin III.
The protection breakdown wasn't Black's fault, though. Running back Alfred Morris took responsibility for it because he ran between Black and Johnson as he released on his pass route. Let's examine the play:
1. Morris and Black (circled in red) are on the left side of the shotgun formation. Johnson lined up very wide to the right. Morris is Griffin's first option in the progression on this passing play, Morris said.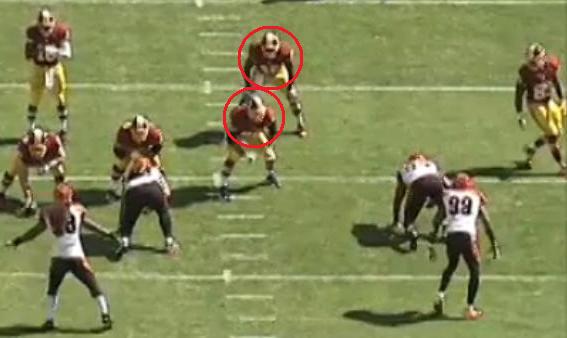 2. As Johnson rushes upfield, Morris releases on his pass route but runs between Black and Johnson.
"I've known that since high school. That's the biggest no-no," Morris said. "You never go between the tackle and the blocker. You never do that. That was the first time I ever done that because it's always drilled into your head to never do that. I got caught in between. I should have just widened out or stop and come back inside."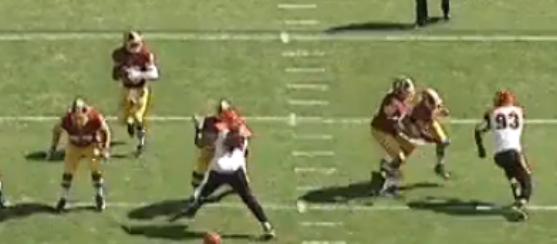 3. Morris effectively set a pick on Black. He tripped Black and bumped into Black's arms as Black was about to punch. The result, as you can see, is an ugly whiff by Black as Johnson easily gets around him.
"The thing is they had them wide-9s," Morris said. "They had widened out. When he rushed, he came upfield so fast and so far, he was so far outside, that I would have been running way around him. It kind of sucked. It hurt me, and I hurt the tackle, and they ended up getting a sack."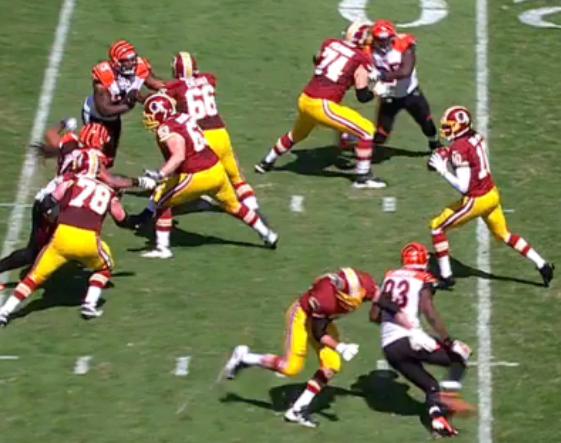 4. Johnson has a free run at Griffin. He hit Griffin only 2.2 seconds after the snap. The play had no chance.
"That was totally on me," Morris said. "I was pretty upset about that one myself. I knew I shouldn't have done it, but…I just kind of got caught in between. If anything, I should have just slammed the D-end to kind of slow him down, but I was just trying to hurry up and get out because I was first in the progression. I had a sense of urgency."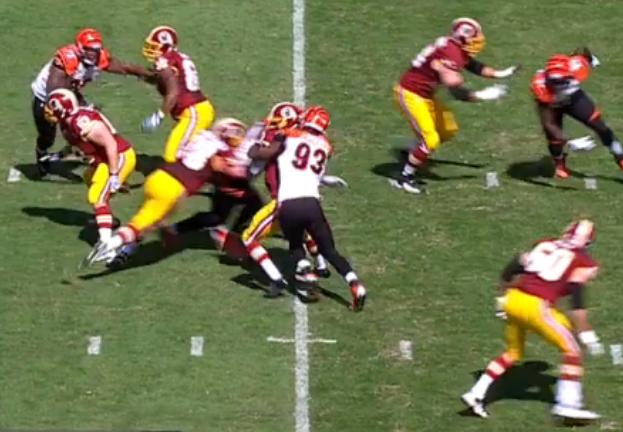 5. This final picture is from the All-22 film. Morris (circled in red) is near a linebacker. Griffin never got the chance to throw the ball. Morris probably wasn't open, but there was some room for Griffin to scramble.