Redskins fullback Eric Kettani was promoted to lieutenant in the U.S. Navy during a ceremony at team headquarters Monday.
Kettani had head coach Mike Shanahan and running backs coach Bobby Turner separately pin two silver bars on his uniform, signaling his new status as an officer.
---
SEE RELATED: FENNO: As Redskins fullback and now Navy lieutenant, Eric Kettani worthy of salute
---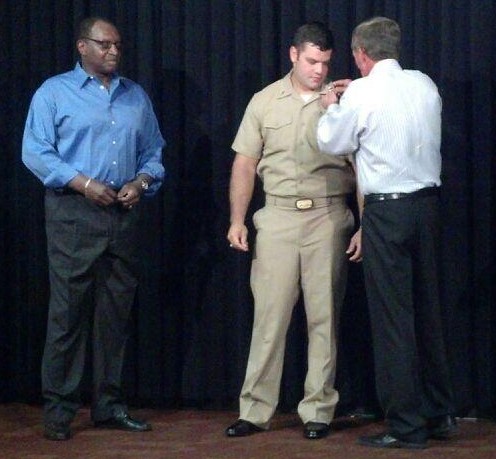 It was neat stuff for this football scribe to see and an achievement worth celebrating. My colleague, Nathan Fenno, will have more on it later today.
Kettani is serving in the Navy Reserve while he continues his football career. How his career evolves from this point, however, is uncertain.
He signed to the Redskins' practice squad last Sept. 11 and remained there through the season. This year, he's competing for a roster spot at a position at which three-year veteran Darrel Young has established himself as the starter. Young is a violent blocker, agile when carrying the ball and can catch. Unseating him would be difficult.
Shanahan doesn't necessarily predetermine how many players he wants to keep at each position, though, so Kettani has a chance to play his way onto the team. Shanahan kept two fullbacks, Mike Sellers and Young, on the final 53-man roster in 2010 and 2011, and kept only Young last year.
The roster crunch on offense could be tighter this year because the Redskins are set to keep four tight ends (Fred Davis, Logan Paulsen, Niles Paul and third-round pick Jordan Reed) for the first time under Shanahan.
Kettani, 26, at least is eligible for the practice squad. But Shanahan and Turner said Kettani's combination of intangibles and athletic talent will enable him to seriously contend for a roster spot.
"The attitude, the character; he's got awesome hands; his overall toughness," Turner said.
"Not only does he have blocking skills, but he has running skills," said Shanahan, who noted Kettani practiced with the first-string offense at Monday's practice because Young sat out for an undisclosed reason.
Shanahan said he did not consult with his friend, New England coach Bill Belichick, after the Patriots released Kettani last Sept. 4. The Patriots signed Kettani as an undrafted free agent out of Navy in May 2009, but he spent three seasons on the reserve/military list. Kettani finally played last preseason, rushing five times for 12 yards.
"I just looked at a lot of film," Shanahan said. "Sometimes when you talk to a guy about a guy, they're gonna protect him and you can't steal him away."
Both coaches heavily praised Kettani's character, which, in the context of Monday's ceremony, was fairly self-explanatory.
"He's an excellent example for what I'd like for my own kids to be and, obviously, carry on," Turner said. "I want that to become contagious throughout not only the running backs but throughout our team. His attitude, his desire, his love, his passion."
Said Shanahan: "We knew that when we got him – what type of guy we had. He graduated from the Naval Academy, and to have the success that he's had, he's a special type of player to come in. And then you see what type of football talent that he brings, you know that the competition is very strong at that position, and we've got a guy that we think can help our football team win."