Out of the dead tree and on to the Internet, David Elfin's weekly NFL Power Rankings have a new home here on Redskins 360, where they'll appear each week.
There's not much change at the top this week, as the top five teams from last week remain.
The big dipper? The sinking ship known as the Dallas Cowboys, whose coach, Wade Phillips, got the dreaded vote of confidence from Jerry Jones this week. As always, last week's rankings are (in parentheses).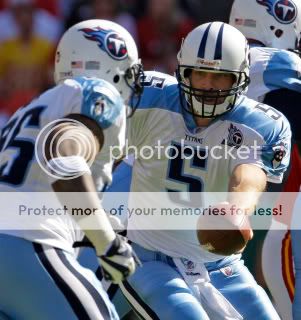 (AP photo of Kerry Collins and the Titans)
1. Titans (1). Can't argue with the NFL's only unbeaten team especially with the way they overpowered the Chiefs with the two-headed monster backfield of LenDale White and Chris Johnson. Tennessee's six victims are a combined 11-21 and only Jacksonville made the 2007 playoffs … but if the Titans beat the struggling Colts on Monday, they're for real.
2. Giants (2): The champs' awful Week 6 outing in Cleveland carried over into a lackluster performance last week at home against the lousy 49ers. Quarterback Eli Manning has reverted to his old maddening self the past two games, leading one to suspect he's really hurting. He better have his A game back for Sunday's visit to Pittsburgh.
3. Steelers (3): The NFL's No. 2 run defense is primed for its showdown with the Giants and their No. 1 rushing attack, led by Brandon Jacobs. There should be enough hitting going on at Heinz Field to satisfy an MMA devotee. Steelers quarterback Ben Roethlisberger has played well no matter which running back is sharing the backfield with him.
4. Redskins (4): No team is making its coaches and fans sweat more than Washington, which has had six straight games come down to the final minutes with the outcome in doubt. The past two games have featured opposing field goal tries on the final play. NFL rushing leader Clinton Portis and a fine defense should prevent so much sweat Sunday at winless Detroit.
5. Cardinals (5): No, this isn't the rankings of most profitable baseball teams. Arizona has played well except for the Week 4 shellacking that Brett Favre gave its defense. And Anquan Boldin could return Sunday at Carolina to give quarterback Kurt Warner three fine receivers. If the defense can handle Steve Smith, Arizona could win on the road.
6. Bills (7): The way that Buffalo's defense throttled LaDainian Tomlinson and made the Chargers' offense one-dimensional showed that the Bills are ready for prime time after nearly a decade of mediocrity. And quarterback Trent Edwards (5-0 when playing into the second quarter) is back just in time for three straight games against AFC East foes.
7. Buccaneers (8): With all the fuss over the four big-time teams in the NFC East, no one's paying much attention to the Bucs. That's a mistake. Tampa Bay is perfect other than a pair of close road losses and heads to Dallas with a resurgent defense and a surprisingly effective offense that has been energized by quarterback Jeff Garcia's return to the lineup.
8. Falcons (9): This season must be payback for Arthur Blank having put so much faith in wayward quarterback Michael Vick and firing coach Jim Mora in favor of scoundrel Bobby Petrino. coach Mike Smith and quarterback Matt Ryan aren't operating like the neophytes they are. Smith has a bend-but-don't-break defense and Ryan to Roddy White has worked wonders.
9. Bears (10): Yes, the defense surrendered 34 points and 439 yards to the Vikings, but it also picked off four passes while the special teams scored two touchdowns (neither by Devin Hester) and quarterback Kyle Orton kept humming. The Cubs might have choked and the Blackhawks might have already fired their coach, but it's still a sweet bye week in Chicago.
10. Eagles (11): If the bye week healed running back Brian Westbrook's ankle, the Eagles will be good to go for the visit by the surprising Falcons. Donovan McNabb rallied the Westbrook-less Birds past the 49ers two weeks ago, but that's not a trick Philly wants to try too often. At 3-3, the Eagles are clearly the NFL's best last-place team again.
11. Panthers (13): Carolina followed being smacked at Tampa Bay by blasting the Saints. The defense is the only one in the NFC in the top 5 in yards and points allowed. They can catch (Steve SMith and Muhsin Muhammad) and run (Jonathan Stewart and DeAngelo Williams) and they're 4-0 at home heading into a visit by road-weary Arizona.
12. Cowboys (6): Something's badly amiss deep in the heart of Texas. Actually, plenty's amiss. The star-laden defense is taking on water after being manhandled in five of seven games. The Tony Romo-less offense turned the ball over four times in the loss to St. Louis, Dallas' third in four weeks. And Jerry Jones said he won't fire coach Wade Phillips. Yet.
13. Ravens (14): The boys from Balmer certainly got their act together in defending offensive coordinator Cam Cameron's honor in beating Miami, the team that fired him last year. With visiting Oakland's pathetic passing game no match for the Ravens' defense, rookie coach John Harbaugh should love back above .500 heading into three straight road games.
14. Patriots (16): In 2005 and 2006, New England was 24-9 against the rest of the NFL but 0-3 against Denver. So the struggling Patriots would, of course, keep sliding on Monday against the visiting Broncos. Naturally, New England cruised 41-7. The Rams, the NFL's newest upset kings, come calling on Sunday. The Pats should win, but who knows anymore?
15. Browns (15): Any team that blows out the unbeaten, defending Super Bowl champion Giants by three touchdowns deserves to shoot up the rankings. If Derek Anderson and Braylon Edwards can make the same kind of big plays and the defense can hassle Jason Campbell the way it did Eli Manning, the Browns can continue their renaissance against the Redskins.
16. Packers (20): Who figured that Green Bay would wallop Indianapolis thanks to its pass defense and running back Ryan Grant? That the Pack could beat a quality (seemingly) foe without Aaron Rodgers having a huge day is a real positive sign of what could be in store after this week's bye. Three of Green Bay's next four are on the road, however.
17. Chargers (12): When Norv Turner, who couldn't win in Washington or Oakland, got a third shot in San Diego and inherited LaDainian Tomlinson and Shawne Merriman, he was the luckiest coach in the world. But now that Merriman is out for the year and L.T. is hurting, neither Norv nor his teeam should be treated like royalty this week in London.
18. Dolphins (19): Miami, which won just one game last season, was oh so close to a three-game tear but couldn't close the deal. Still, it was a bad loss, coming to previously winless Houston after the Dolphins led 14-3 early in the second quarter. The Ravens won't test Miami's weak pass defense, so 20 points by the offense could produce a victory.
19. Jets (17): OK, it was an overtime loss on a 57-yard field goal. But it was still a loss to Oakland, which had been strafed by New Orleans in interim coach Tom Cable's debut the previous week. Brett Favre and Co. racked up 418 yards but scored just 13 points. Good thing they've got the Chiefs coming East this week because they could use a whipping boy.
20. Colts (18): So was the 31-3 rout of the Ravens two weeks ago a final reminder of what used to be for Peyton Manning and Marvin Harrison? Indy had as many yards as Green Bay last week, but Manning's two interceptions returned for touchdowns were killers and Harrison had just 11 yards. And now come the Titans, Pats and Steelers. It's about over for the Colts.
21. Jaguars (21): Before last week's bye, Maurice Jones-Drew had ripped through Denver's defenders as if they were practice field cones. Considering the poor state of the run defenses of Cleveland, Cincinnati and Detroit, Jones-Drew and Fred Taylor should have the Jags on a four-game victory run for the No. 18 showdown with AFC South leader Tennessee.
22. Rams (29): Was this team just waiting for Jim Haslett to take over to find itself? The Rams were fortunate to beat the Redskins on a last-second field goal, but there was no luck involved as St. Louis embarassed preseason Super Bowl favorite Dallas 34-14. The Rams still have serious issues on defense, but Steven Jackson should keep them in most games.
23. Vikings (24): Last Sunday's loss in Chicago was Gus Frerotte's career in a nutshell: 298 yards and two touchdowns were outweighed by four interceptions. The Vikings can run and stop the run as well as anyone, but their pass defense is so porous that the fans say "poor us" when the opposing passer drops back. But they're only a game out in the lousy NFC North.
24. Broncos (22): Denver certainly could use this week's bye to recover from the whipping it just took from New England. The Broncos were outscored 74-26 in their last two road games and play three of their next five away from Denver. Mike Shanahan is very fortunate to be atop the AFC West at 4-3 given his team's defensive woes.
25. Saints (23): Drew Brees has to be wondering how he got stuck playing with these clowns. Brees is leading the league in completions and passing yards despite the absence of top receiver Marques Colston, but the Saints have no running game and their defense just surrendered 30 points for the third time in five games heading to London to meet the Bolts.
26. Texans (25): They've won two in a row, albeit over Miami and Detroit. With winless Cincinnati in town on Sunday, the Texans should be able to celebrate the first 3-game winning streak in their seven seasons. Receiver Andre Johnson and defensive end Mario Williams, Houston's No. 1 picks in 2003 and 2006, respectively, continue to shine.
27. Raiders (31): Interim coach Tom Cable is 1-1 after outlasting the Jets in overtime. Maybe Cable should quit while he's even. His four immediate predecessors were all fired with losing records. Given Oakland's personnel other than rookie running back Darren McFadden and corners Nnamdi Asomugha and DeAngelo Hall, Cable will surely end up under .500, too.
28. 49ers (27): Mike Nolan is a good man, but he failed as a head coach because he cast his lot with quarterback Alex Smith, a bust as the first pick in the 2005 draft and because the longtime defensive coordinator could never get his defense to make enough stops. Interim coach Mike Singletary has slumping Seattle and then a bye to figure things out.
29. Seahawks (26): Seattle moved up a notch on the quarterback pecking order as backup Seneca Wallace returned to supplant third-stringer Charlie Frye in place of injured starter Matt Hasselbeck. But as 2008 has gone for the perennial NFC West kings, Wallace was even worse than Frye as the Hawks sank to 1-5. Now they get the Niners with a new coach.
30. Bengals (30): Receivers Chad Johnson and T.J. Houshmandzeh combined for 16 catches, 110 yards and a touchdown against the Steelers without star quarterback Carson Palmer and the Bengals were still crushed. And now this winless crew heads to Houston, which has won two in a row. The good news is that Kansas City has overtaken (?) Cincy as the AFC's worst.
31. Chiefs (28): Just when you thought things couldn't get worse in Kansas City, general manager Carl Peterson failed to trade tight end Tony Gonzalez to a contender, hurting the Chiefs' future which became even bleaker when young quarterback Brodie Croyle's season ended with a knee injury. The visit to the Jets should drop K.C. to 1-15 in its last 16 games.
32. Lions (32): Yes, they fell behind Houston 21-0, but the Lions did outscore the Texans 28-7 the rest of the way. Of course, Detroit still lost to fall to 0-6 and 1-13 since midseason 2007. The defense is the NFL's worst, but the offense has some young weapons in receiver Calvin Johnson and running back Calvin Smith. And kicker Jason Hanson is perfect.