The Redskins have won two in a row with Jason Campbell as quarterback for just the second time. Before heading to Big D, the Washington Times' Ryan O'Halloran and Channel 4's Lindsay Czarniak review the win over Arizona, the impact of Jason Taylor's calf injury and make a pick on Redskins-Cowboys.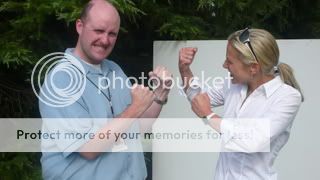 1. Before the Redskins could start looking toward Dallas, they had to finish dealing with the news that Jason Taylor's calf injury will keep him out at least one game. How big of an impact — considering the opponent — is Taylor's loss and who will pick up the slack?
Ryan: The Taylor news was a surprise considering it was announced after the open locker room period and therefore, we couldn't get any player reaction. I'm predicting Taylor will be lost for two games but it will be important for him to be back for the three-game stretch against St. Louis, Cleveland and Detroit — three absolute must-win games. The impact will be big on third down, but Demetric Evans is a solid player against the run and Chris Wilson proved last year he could be effective as a situational pass rusher. It's a bad break for Taylor, who looked like he had recovered fully from his sprained knee and was gaining traction within the Redskins' scheme.

Lindsay: It's a huge loss because the Redskins need to rush the passer effectively more this game than any they've played so far. Kurt Warner and Drew Brees are gunslingers in their own right but when Tony Romo has time, he's better than any quarterback at finding his target. I say Taylor only misses one week. As for picking up the slack, Demetric Evans will get the job done and I'm looking for him to have a strong showing against the run because the Redskins are going to need it. I think that's where the Cowboys will really try to chip away. The other player that could get some recognition is Erasmus James, who can prove his worth in pass rush situations this weekend.
2. Back to the win over Arizona — how impressive was the secondary's performance against a high-powered passing offense like the Cardinals? How surprised were you by the performance?

Ryan: Very impressive and only a little surprising. Impressive because Arizona has a quarterback (Kurt Warner) who can still sling it and two world-class receivers (Boldin and Fitzgerald). But the Cardinals had only one catch longer than 19 yards. I was surprised that they didn't connect for a few more long passes. The Redskins' had a smart plan – they didn't send many blitzers, electing to play coverage and keep the Cardinals receivers in front of them. The final key was tackling — Shawn Springs, Carlos Rogers and Fred Smoot are all solid tacklers after the catch. The keys against Arizona will be the same against Dallas.
Lindsay: Very impressive, not surprising. I was impressed that, collectively, the secondary had a great day. The reason I'm not surprised is because when you look at what they did well individually, I think you expect that. LaRon Landry made the huge play breaking up the pass to Fitzgerald – that was as good as any play I've seen defensively all season and Shawn Springs made Anquan Boldin basically non-existent, holding him at most, to a 14-yard catch. I know Zorn has been working with the DBs on interception drills (not saying that this was a huge difference) but maybe that's what helped Carlos Rogers get over the hump and make the interception off the ball Torrence deflected. This is what I expect from this group individually.
3. Santana Moss already has 19 catches and two game-winning touchdowns. Why is No. 89 such a good fit for this passing offense?

Ryan: A couple of reasons. He's healthy and has shown the burst that earned him a Pro Bowl trip after the 2005 season. Secondly, he's really in sync with quarterback Jason Campbell, who has confidence to throw him the ball even if he's covered. Two last things: Jim Zorn has done a good job calling quick throws that puts the ball in Moss' hands and with blocking, chances to gets big-time yards after the catch. It's crucial for Moss to stay healthy and avoid the lower-body injuries that have plagued him the past couple years.

Lindsay: Because he's faster than anyone out there and he does not hesitate when it comes to making a play, be it a great catch or a catch and "run like the wind" play. He plays like he's 6'5". I think he and Jason have found a rhythm and a trust factor, as Ryan said, but I also liked him talking about how excited he was to get the ball "underneath" so that he can just motor his way down the field. I think this offense really allows him to maximize his speed from his track star days at Miami.
4. On to the Cowboys — how good has Dallas been and what are the biggest problems they pose?

Ryan: I'd put them atop my NFL rankings at this point because they throttled a good Green Bay team at Lambeau Field. But I do think they can be tested by the Redskins. Dallas commits a lot of penalties — Dan Daly's column about the face-mask penalties raised the ire of Cowboy Nation last week — and the Redskins have been relatively disciplined. On offense, the Redskins should be able to take advantage of Dallas' so-so secondary. On defense, the Redskins have their hands full. Terrell Owens caught four TDs in last year's win in Dallas and tight end Jason Witten is a stud. And I think Tony Romo is the best in the NFC.

Lindsay: The biggest problem is this guy named Felix Jones who has three touchdowns in his first three NFL games. I say that because when you think of the Cowboys, you think of Romo and T.O., Witten, Crayton, etc. but with the Redskins (and other opponents that have played them) focusing on stopping the pass, I think the danger becomes the Cowboys running game and whereas Marion Barber is the star, this new guy Felix Jones is performing like a seasoned veteran. I think Dallas has been great because of how they find a way to adjust to what the other teams' defensive weakness presents.
5. The Redskins make their last regular season trip to Texas Stadium on Sunday. Two-part question — do you like the stadium? And, both of you will be in Big D on Sunday — who wins and why?
Ryan: Two memories – first is as a student at Kansas State and covering the Cotton Bowl game against BYU that included K-State practicing at Texas Stadium. Second is the chaotic night three years ago when Moss caught two fourth-quarter touchdowns to stun the Cowboys. As for a pick, I'm going Dallas in a shootout – 35-27. Both quarterbacks will exceed 300 yards and both Moss and Owens will account for more than 100 yards receiving.

Lindsay: I have only watched two games inside the stadium but yes, I like it and my biggest memory is last season, watching Reed Doughty prepare to get his first start at safety that day. He will tell you he didn't have a great day but the reason I will always remember that is because he had no idea that he would end up starting the rest of the season in the wake of the Sean Taylor tragedy. As for the game…well, I picked the Cardinals last week, so maybe this will bring the Skins some luck, but I'm picking Dallas. I think Jason Witten will be the biggest producer but I don't think the Redskins will have as much success stopping the big plays as they did against the Cardinals. I think Jason Campbell will stay consistent but that they will come up short. 21-17.
BONUS 6. The Capitals have opened training camp and start defense of their Southeast Division championship next month. What are some of the keys for the Caps this season?

Ryan: To me, the Caps are still in show-me mode. They had one insanely hot month to win a bad division and then couldn't cash in on having first-round home ice. But this team is still entertaining to watch and should be the division favorite. Two things that need to happen – solid goal-tending from Jose Theodore and more production from the second and third lines. Teams are going to center their game plan around whatever line Ovechkin is on so it's up to the other two lines to be available to score.
Lindsay: I think goaltending will be huge, so I'm interested to see how Theodore does, as Ryan said. But I also think the intangibles of what Olie Kolzig brought to the Caps is immeasurable. I want to see who steps into that role this season.