UPDATED - 1:52 p.m.
Back in January 2010, two NCAA staffers exchanged a series of emails mocking the concussion safety efforts of David Klossner, the organization's director of health and safety.
"Dave is hot/heavy on the concussion stuff," wrote Ty Halpin, the director of playing rules administration. "He's been trying to force our rules committees to put in rules that are not good — I think I've finally convinced him to calm down."

"He reminds me of a cartoon character," responded Nicole Bracken, the associate director of research.

"HA! I think you're right about that!" Halpin wrote.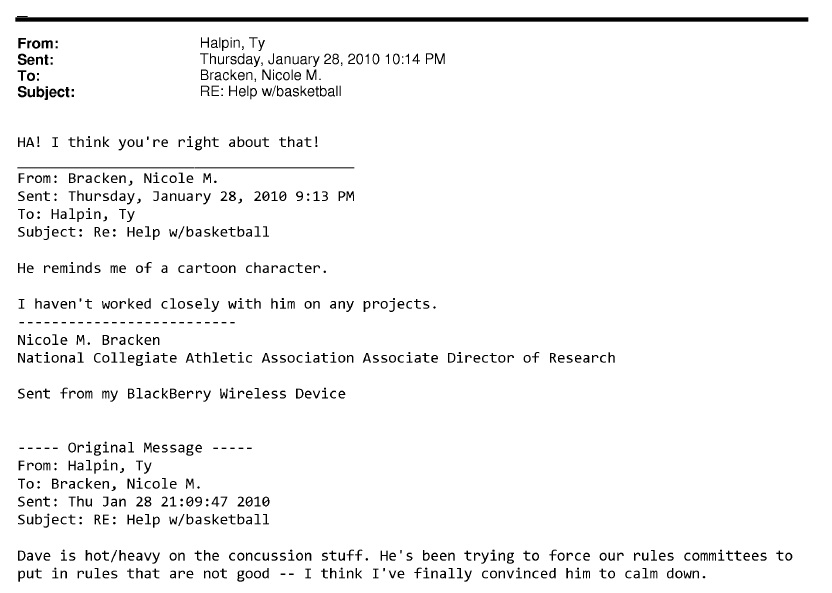 The emails are part of over 1,000 pages of internal NCAA documents and depositions filed in federal court late Friday, as part of a motion seeking class-action status for a lawsuit challenging the organization's handling of head injuries. The NCAA's response to the motion to certify the class is due Sept. 13.
Hours before Friday's filing in the case headlined by former Eastern Illinois football player Adrian Arrington and three other former college athletes, the NCAA announced a $399,999 donation to study the long-term impact of concussions.
"Student-athlete safety is one of the NCAA's foundational principles," spokeswoman Stacey Osburn told the Associated Press on Saturday. "The NCAA has been at the forefront of safety issues throughout its existence."

But the documents filed in U.S. District Court for the Northern District of Illinois reviewed by The Washington Times raised questions about the NCAA's handling of concussions:

— A 2009 email from a University of Georgia assistant football trainer discussed potential NCAA concussion legislation and admitted athletes were returned to games after suffering concussions.

"I personally have seen an athlete knocked unconscious and return in the same quarter in recent years," Dean Crowell wrote in an email to Klossner and several others.

— In February 2010, Abe Frank, the managing director of government relations, asked Klossner if "the [federal concussion] recommendations for youth sports would go beyond what is required at the college level?"

Klossner responded: "Well since we don't currently require anything all steps are higher than ours. It seems the federal act is mandating baseline and post-concussive testing."

— An internal NCAA survey released in 2010 showed 50 percent of responding schools didn't require a concussed athlete to see a physician and around half would return an athlete to the same game after suffering a concussion. Just 66 percent of schools used baseline testing; of those that didn't, 70 percent indicated cost was a factor and 48 percent regarded the process as too time-consuming.

— Klossner suggested funding research and a public relations effort to tout the quality of college athletes' health care. The director frequently expressed exasperation in emails about the internal obstacles to implementing concussion rules and legislation, particularly regarding return to play guidelines.
"What an uphill task we now have," he wrote in one 2010 email.
In another note the same year, he wrote: "Return same day issues seem to be our biggest barrier." As in, the push for athletes to return to play the same day as suffering a concussion.
— In emails and an April 2013 deposition, Klossner admitted the NCAA's requirement for each school to have a concussion plan on file, adopted in 2010, isn't enforced and that some schools didn't have plans on file.

Q: Are member institutions required to submit their concussion management plans to the NCAA?

A: No.

Q: Is there any oversight by NCAA that would confirm whether or not a school has a concussion management plan?

A: No. [Klossner initiates discussion on meaning of oversight]

Q: Have any member schools been disciplined regarding concussion management plans?

A: Not to my knowledge.

A: Has the NCAA considered disciplining institutions regarding concussion management plans?

A: No, not to my knowledge.
— A representative of the Centers for Disease Control asked about enforcement of the NCAA's concussion management plan in 2010.
"Has the NCAA thought/planned how they will monitor compliance and remedy violations?" Dr. Jennifer Hootman wrote in an email to Klossner. "Was there any discussion on strengthening the language for coaches from "acknowledge they understand" to "will sign a statement" (like the student-athletes will be required to do)?"
— In a October 2010 email, director of enforcement Chris Strobel outlined the process that would lead to a school receiving a secondary violation for not having a concussion plan in place or blatantly disregarding the plan and being dinged for lack of institutional control. The legislative requirement, though, is only that a plan be in place.

"As a result," Strobel wrote, "it would not be appropriate for enforcement to suspend or otherwise penalize a coach pursuant to the current legislation even if the student-athlete was required to participate after having been diagnosed with a concussion."

More: "The legislation was specifically written to require institutions to have a plan and describe what minimum components had to be part of the plan — not about enforcing whether or not they were following their plan — except for those isolated circumstances of systemic or blatant violations."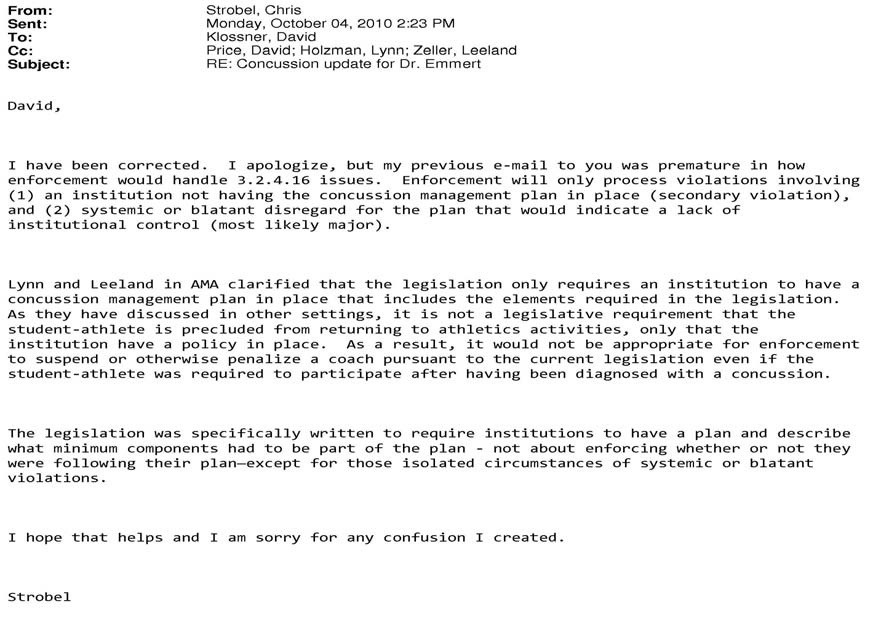 Even that level of enforcement, according to the documents, never happened.

An email Strobel sent two hours earlier, then retracted, outlined a process to penalize coaches — including multi-game suspensions — who returned concussed athletes to play.
The exchange came as part of information gathering to update president Mark Emmert on the organization's concussion efforts.
— In another October 2010 email, Klossner writes that the NCAA's new policy "clearly places the responsibility for oversight of concussion management in the hands of the institution" and not the NCAA.
— A 2011 email revealed an attempt to audit the concussion plans each school is supposed to have on file was barred. Why the effort ended isn't clear.
"Fyi, it was a "no" result for reviewing concussion plans," Klossner wrote to Mary Wilfert, associate director of health and safety.
— In 2008, a Division III football player emailed Klossner because his school didn't have a trainer at practice and most games the previous two years. The player wanted to know what to do.
"There are multiple players on my team who have suffered injuries and not have had the correct treatment for them," the player wrote on April 10, 2008, "We are trying to see what we can do about this because this is not fair to the student athletes who put their all into something and can't even get the proper treatment needed."
A week later, Klossner replied.
"We do not have rules pertaining to the use of an Athletic trainer," he wrote. "The health and safety principle of the NCAA Constitution states that it is the responsibility of each member institution to protect the health and provide a safe environment for each of its participating student-athletes."
Translation: this isn't the NCAA's problem.
Klossner followed with a discussion of legal liability and suggested the player approach his athletic department about applying for a grant to cover the cost of a trainer. He closed with links to concussion return-to-play guidelines and a concussion awareness video put out, ironically, by the National Athletic Trainers' Association.