If you thought environmentalists are to blame for pushing oil rigs into deeper waters where spills like the BP oil disaster happened, the environmentalist agenda does not stop there. Environmental regulations have made it tougher to enforce border security as well.
Environmental regulations imposed on our U.S. Border Patrol mandating where agents can and cannot be on the border is yet another government obstacle law enforcement at the border must contend with.
"At several sections of the Arizona border, there are parts that are controlled by the federal government, that they fence off and don't even let border patrol in them. That's why a lot of the illegal immigrants come over the border there through those federal reserves and wildlife reserves," said Rep. Trent Franks, Arizona Republican.
The Department of the Interior controls 40 percent of land on the U.S. southern border, and according to a 2002 - 2003 department report:
"Virtually all of the lands managed by Department of the Interior (DOI) along the Arizona/Mexico border are sparsely populated with easy access into the United States from Mexico," the report reads. "Terrorist [sic] wishing to smuggle nuclear — biological — or chemical (NBC) weapons into the United States from Mexico could use well-established smuggling routes over DOI-managed lands."
However, border patrol agents were mandated to keep away from patrolling U.S. wildlife refuges as a result of environmental interests who did not want border patrol agents to set up wildlife refuge camps that would include: helicopter pads, trailers, fencing generators, and high intensity lights all of which are deemed to be hazards to the desert environment.
A 2006 Milwaukee Journal Sentinel article describes how illegal immigrants will go through wild life reserves on the border and leave a tons of trash that is harmful to both plant and wildlife:
Unfortunately, it was border patrol agents who were blamed for harming the parks, leaving illegal immigrants a guaranteed border patrol free area to sneak into: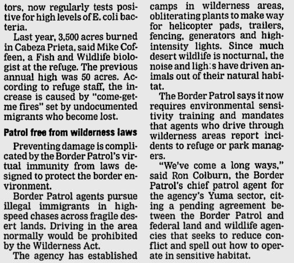 Border Patrol agents, park rangers, and other private American citizens have been killed on government owned land. In fact, on March 27, Arizona rancher Robert Krentz was fatally shot by an individual who illegally crossed the border into the U.S. through the San Bernardino Wildlife Refuge.
As a result of the problems from the bureaucratic red tape and walls agents must deal with to protect the borders, Rep. Rob Bishop, Utah Republican, Rep. Doc Hastings, Washington Republican, Lamar Smith, Texas Republican, and Peter King, New York Republican, have introduced H.R. 5016. This bill would ban federal land agencies from denying the Border Patrol from doing "its congressionally mandated mission to achieve operational control over U.S. borders." Republicans have put out 3 reasons for members to support the bill:
1) H.R. 5016 will Enhance National Security
Some of the most dangerous areas along the southern border are the 20.7 million acres of Department of Interior (DOI) and U.S. Forest Service (USFS) land. This land suffers from significant environmental damage, high rates of violent crimes, and thousands of smuggling routes used by drug cartels, human traffickers and possibly terrorists.
2) H.R. 5016 will Reduce Violence
National parks and forests have become some of the most dangerous and violent areas along the border where shootings, robberies, rapes, murders, kidnappings and car-jackings frequently occur. These areas have been rendered unsafe for entry by U.S. citizens, including land managers and employees.
3) H.R. 5016 will Protect the Environment
Although the DOI's goal is to protect the environment, illegal activities along the border continue to cause significant environmental damage. These wilderness areas that are protected by the DOI continue to suffer from mounds of discarded trash, dumping of toxic waste, destruction of plants, soil erosion and wildfires started by illegal border crossers.
The Border Patrol union, the National Border Patrol Council, has endorsed H.R. 5016.
In a statement Rep. King said, "Border Patrol agents spend every day on the front line, securing our homeland from terrorists. Denying or limiting the Border Patrol access to public lands and allowing the flow of illegals, including potential terrorists, doesn't protect anything."