It is no secret that Congressman Anthony Weiner, New York Democrat, has had aspirations to become mayor of New York City one day. However, why hasn't the New York Congressman made any announcements of his intentions yet, when his 420 Lexington Avenue campaign office has a sign on the door showing he is running for both offices?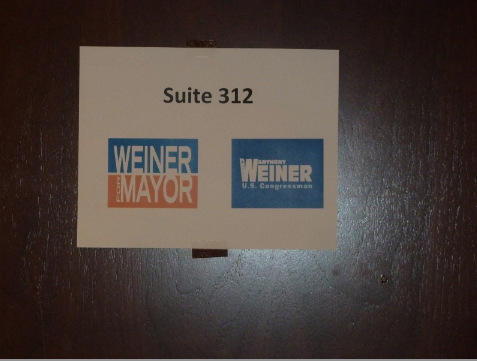 The Bob Turner campaign for Congress snapped the photo above on Tuesday of the Anthony Weiner campaign office door at a 420 Lexington Avenue office in Manhattan. The purpose of the Turner campaign visit to Mr. Weiner's office was to confirm the time and date for a debate that Mr. Weiner promised he would engage in with Mr. Turner.
What is Congressman Weiner running for now?
A call to Mr. Weiner's campaign spokesman was not returned as of this posting.
* UPDATE 10/15/10 ––––––––––
Weiner campaign spokeswoman Risa Heller sent an email stating the following:
"Our campaign office is at 72-50 Austin Street. Visitor and volunteers welcome."
The address above is located in Forest Hills, Queens. It also is the address of the Democratic Organization of Queens County. According to the Sunlight Foundation, "Friends of Weiner" maintains a campaign office outside of Mr. Weiner's 9th Congressional District at 420 Lexington Avenue in Manhattan.
Questions still remain as to when the Weiner campaign established their campaign headquarters in Queens. The Turner campaign contends that the Weiner campaign began claiming the Forest Hills address as the campaign headquarters only after Mr. Turner called out Congressman Weiner for not having a campaign office in the 9th district but having a campaign office, instead, outside the district in Manhattan.
Furthermore, the Weiner campaign still needs to respond to the photo above that the Turner campaign says it took on Tueday of the Weiner campaign's 420 Lexington Avenue office door sign that says "Weiner for Mayor."