Senate Majority Leader Harry Reid, Nevada Democrat, is hoping his core base of union support in Nevada will come out in droves on Tuesday to help him keep his seat, but while big labor leadership is certainly in Mr. Reid's corner, according to reports, too many union members may either vote for Mr. Reid's Republican challenger, Sharron Angle or simply stay home.
Union members, many who are unemployed, are unhappy with current leadership's position on the idea of organizing illegal immigrants. In a 2007 piece by Cornell University's Jeffrey Grabelsky, he quotes Iron Workers president Joe Hunt, who encouraged bringing illegal aliens into the unions: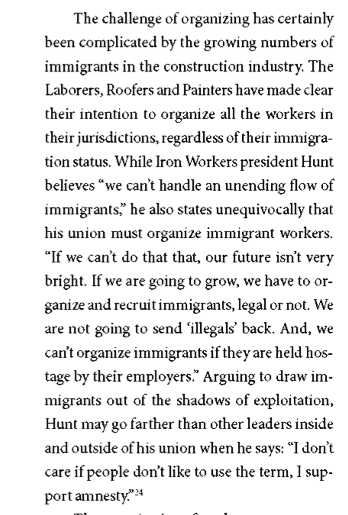 As I posted in a previous piece, Senator Reid only began to have more pro-amnesty views in 1999—six years after pushing anti-illegal immigration legislation, a few months after the big labor unions changed their immigration policy to a pro-amnesty stance.
"Keep in mind, construction labor in this state and Harry Reid are one in the same," says Darrin Oglesbee, a member of Iron Workers Local 416 in Las Vegas." There are 28 people who make these decisions for 13,000 members."
Senator Reid boasted about saving 22,000 jobs in Nevada, but it is difficult to believe such a remark when the state currently has the highest un-employment rate in the country. Furthermore, according to the Las Vegas Sun, casinos and hotels laid off 400 workers last month:
More than 400 employees of the Plaza Hotel & Casino face layoffs in the next 60 days as the downtown Las Vegas property closes its 1,037-room hotel and portions of its casino in early November.

While the company says the hotel closure will be followed by planned renovations of all guestrooms and hallways, it appears the closure is also associated with the recession that has hurt the Las Vegas gaming industry — with downtown taking an especially brutal hit.

The Plaza will be "minimizing operations" on Nov. 11, property manager Bobby Ray Harris told employees in a memo last week.
Furthermore, Reid supporters will point to the construction of City Center as an example where the Senator "saved" jobs for Nevadans, but this is actually more of a shell game than anything else.
Mr. Oglesbee takes issue with the City Center project, saying "If he saved City Center like he did, then why did we all get laid off?" Mr. Oglesbee contends that a number of construction workers at City Center are not necessarily American citizens either.
According to a 2008 Pew Hispanic Center report, there are 230,000 illegal immigrants in Nevada, placing the state at 13th nationally.
The D.C. think-tank points out that 170,000 workers (12.2 percent) of the state's labor force are illegal immigrants. These numbers, according to the data, are more than double the national average, which is 5.4 percent.
An October 15, Associated Press article illustrates that union membership support for Democrats across the country is lackadaisical. In fact, some express anger towards the current administration and economic environment.
Is it any wonder why Mr. Reid is counting on particularly the union leadership who supports policy he eventually went along with to help him in such a tight race?
With labor employment rates going down among workers in his state, the last place Senator Reid might want to be is in a room full of un-employed union members.