*UPDATE: The Milwaukee Journal Sentinel is reporting that Senate Republicans in the Wisconsin state legislature just voted to withhold the paychecks of the AWOL Senate Democrats who have been located in Illinois.
––––
It appears the 14 Wisconsin Senate Democrats have been located near the state's border in Harvard, Illinois at a Heritage Inn and Suites. WAOW reported on Monday night:
The 14 Democratic Senators who fled the state are assumed to be just over the border in Harvard, Illinois. It's that extended stay out of state that has citizens in the Northwoods pushing to recall their Senator.

Sen. Jim Holperin is in his 3rd year serving the people of the 12th District. Because of his hiatus from Madison, some of his constituents in Eagle River are now trying to recall him.

Kim Simac filed papers for an exploratory committee on Friday. She says she's been getting calls from people all over the district, upset over the absence of their representation at the capitol.
The Badger 14 blog wrote later on Monday evening:
Early this evening, Wausau's WAOW reported on its website: "The 14 Democratic Senators who fled the state are assumed to be just over the border in Harvard, Illinois."

That report appears corroborated by the remark Sen. Tim Carpenter made earlier in the day, when asked by an interviewer with Milwaukee's TMJ4 where, exactly, in Illinois he was. Sen. Carpenter said: "Well, I can look out my window and see Wisconsin. But not the Soviet Union — just Wisconsin." Indeed, it turns out that Harvard, Illinois, is on the northern border of Illinois (about 85 miles southeast of Madison), so that someone in a high-rise Harvard hotel could easily see Wisconsin out the window.
An Illinois tea party member found the wayward Wisconsin lawmakers. According to sources, the senators are still shacked up at the hotel.
Here are photos of two Wisconsin Democratic Senators outside of the hotel in Harvard:
Wisconsin State Senator Chris Larson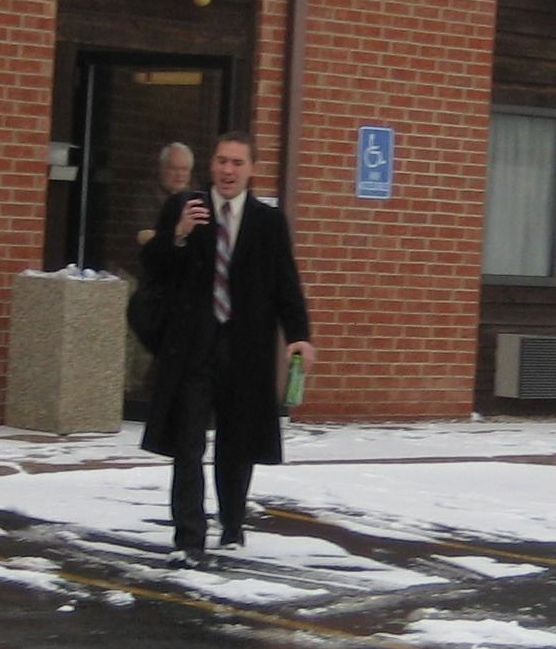 Wisconsin Republican State Representative Scott Suder is confident these Democrats will return to the badger state, but there are options for Republicans to to compel the return of all 14 Democrats. He told me on Tuesday afternoon, "There are legal avenues we could explore, but I certainly hope we never get to that point. I am optimistic that common sense will prevail, and long before we are required to take any other actions, they will come back and do their job and stand up for what they believe in, but actually stand in the chamber and do it."
Outside Harvard Heritage Inn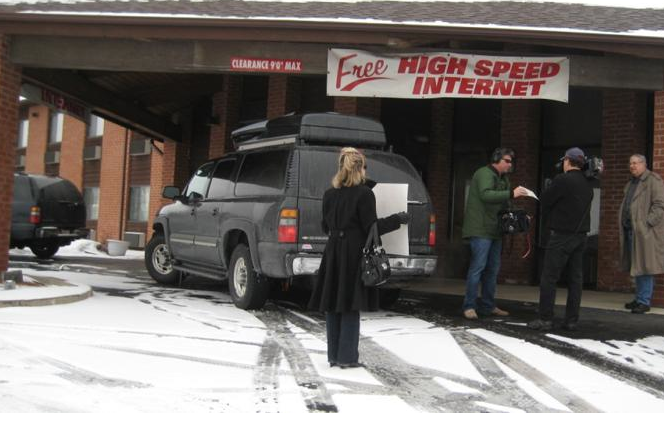 Wisconsin State Representative and Speaker of the Assembly Jeff Fitzgerald responded to my question at press conference on Tuesday about other ways to pass the Republican back union legislation without the Democrats.
"Yeah, you could split it up and take out the fiscal items out of it and they could pass it over with 19 Senators over there. I don't believe that is their intention right now. That could be done, but we don't intend on doing that as well right now," he explained. "That is an option if you could get there. That is the way the body works if it not fiscal. That's why I think you'll see the Senate pass legislation on the floor today that doesn't have a fiscal effect and that could pass with 19 votes."
Wisconsin State Senator Robert Jauch