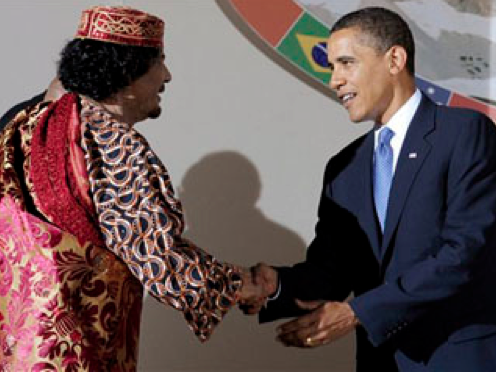 Remember this photo? President Barack met the Libyan dictator Muammar Gaddaffi at the G8 Summit in Italy in 2009. The Tripoli Post described the meeting as relatively brief:
The Libya leader Muammar Gaddafi who is also the current President of the African Union met Thursday night with United States President Barack Obama.

Both leaders shook hands and exchanged words of greetings.

This is the first time that the Leader Muammar Gaddafi to meet a US president for the last 39 years.
The article later describes a second gathering of the two leaders:
Later, both sat at the same dining table for dinner hosted by Italian Prime Minister Silvio Berlusconi whose country is hosting the annual Group of Eight (G8).
This meeting happened immediately before Libyan Lockerbie bombing mastermind Abdelbaset Ali Mohmed al Megrahi was released on compassionate grounds from a Scottish prison to Gaddafi in Libya. The White House blew off the president's smile and handshake with the Libyan dictator by saying the president would greet any leader who approached him.
"I don't think he's given much consideration to whose hand he'll shake or whose hand he'll not shake," National Security Council member Denis McDonough said. Unfortunately, President Obama's flippant attitude toward any tyrant who said hello to him has emerged as a sign of weakness in terms of his foreign policy handling of murderous regimes.
On Wednesday, after nine days, President Barack Obama gave a lame response to the Libyan dictator's violence towards his own people. Mr. Obama is once again, like he was with the Iranian student protests last year, slow to the…shall I say 'push?' While Mr. Obama called the violence in Libya "outrageous" and "unacceptable" on Wednesday, he remarked:
The suffering and bloodshed is outrageous and it is unacceptable. So are threats and orders to shoot peaceful protesters and further punish the people of Libya. These actions violate international norms and every standard of common decency. This violence must stop.
What are Mr. Obama's consequences for the murderous Libyan dictator?
"This includes those actions we may take and those we will coordinate with our allies and partners, or those that we will carry out through multilateral institutions," President Obama said. These are likely to be economic sanctions, and a perhaps freezing Gaddafi's personal holdings. Economic sanctions? Here is how the Iranian leadership has most recently reacted to economic sanctions imposed on that country, according to the Tehran Times:
The negative impact of the sanctions will hit the countries and companies which are obliged to implement these sanctions in their trade exchanges, Ambassador Abbas Araghchi said in Tokyo on Monday.
While liberals in the media praised Mr. Obama as "Reaganesque" following the state of the union address this year, President Obama proves again he is no Ronald Reagan, especially when dealing with Gaddafi.
In April of 1986, following murder of two U.S. servicemen at a West Berlin disco by Libyan agents, the U.S. bombed Libya, and President Reagan made it clear where the United States stood on Colonel Gaddafi:
Colonel Qadhafi is not only an enemy of the United States. His record of subversion and aggression against the neighboring States in Africa is well documented and well known. He has ordered the murder of fellow Libyans in countless countries. He has sanctioned acts of terror in Africa, Europe, and the Middle East, as well as the Western Hemisphere. Today we have done what we had to do. If necessary, we shall do it again. It gives me no pleasure to say that, and I wish it were otherwise. Before Qadhafi seized power in 1969, the people of Libya had been friends of the United States. And I'm sure that today most Libyans are ashamed and disgusted that this man has made their country a synonym for barbarism around the world. The Libyan people are a decent people caught in the grip of a tyrant.
Gaddafi knows very well there's new management in the White House to kick around since President Reagan taught the Libyan dictator a harsh lesson 25 years ago and a paper tiger is the last thing Americans evacuating Libya need right now.