New York's 26th open Congressional District seat, formerly held for a short period by Republican Chris Lee, could become known as a place where politicos either have to look for dates on Craig's List or, in the case of a staffer recently hired by a self-professed tea party candidate running for the seat, will be a male escort to those in need of dates.
According to the Western New York blog WNYmedia.net, Jack Davis, a congressional candidate hoping to run on the Tea Party line of the ballot, may have hired a campaign staffer by the name of Jay Lasher who is moonlighting as a male escort. Mr. Davis wants to challenge Republican nominated candidate Jane Corwin, who just received the state's Conservative Party endorsement on Monday. Without the support of the Conservative Party or no official Tea Party group, this new report about Jack Davis's new hire will likely halt any traction Mr. Davis ever had.
WNYMedia writes:
Regardless of whom the Democrats select, there will be a fourth candidate – Jack Davis of the loony party. Davis, who couldn't get elected in 2004, or again in 2006 in the wake of Tom Reynolds' involvement in the Mark Foley congressional page sex scandal, or even make it through the primary against Jon Powers and Alice Kryzan in 2008, figures that the 4th time's the charm. He's reconfigured his website, hired the Clownshoes Political Consultancy, Ltd, got himself on the Twitters, and even has a solitary Facebook fan.

But when someone runs for Congress – especially a seat made vacant due to sex scandal, you'd figure that the candidate would properly vet his campaign staff and weed out … well, weed out the male prostitutes.

Last week, ads began popping up on Craigslist and other free online classifieds like Backpage seeking campaign workers for a campaign starting March 10th. Prospective employees were asked to call "Jay" at a number with a 303 area code; Colorado. Here's one from backpage that's still:
The article later goes on showing an ad for a "massage" at the same cell number and name above:
So, what's all this about male prostitution, you ask? Well, click to enlarge this wholly different ad that Lasher evidently took out last year through Backpage.com. Note the inventive transformation of that same 303 phone number. His email? "jay4massage". He has strong hands that know how to be soft and the desire to make this an event you'll never forget. I wonder if that's the pitch he gave Jack Davis about collecting petition signatures?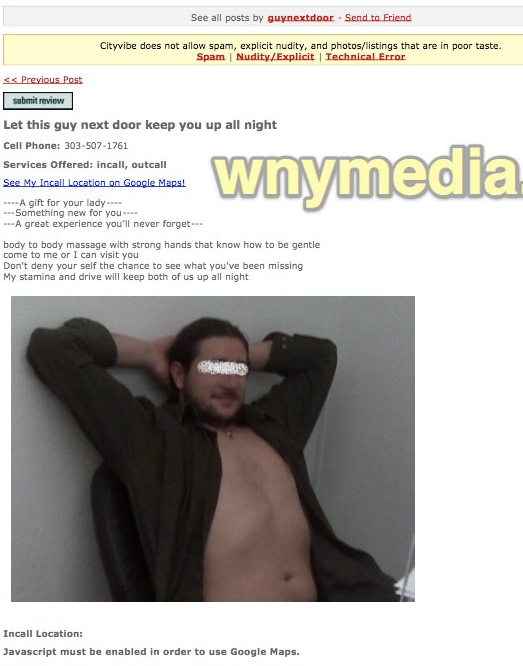 Read more here