Before the World War II U.S.S. Battleship Wisconsin Mitt Romney on Saturday announced Wisconsin Representative Paul Ryan as his Vice Presidential running mate.
The seven term congressman and budget committee chairman has become best known for not only crunching numbers for the GOP during the health care debate but also crafting his "Roadmap for America's Future," a proposal to eliminate the federal deficit, reform the tax code, and preserve entitlements for future generations in 2010. Ryan also serves on the House Ways and Means Committee, where he works to simplify the U.S. tax code.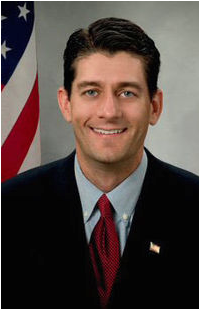 Born in Janesville, Wisconsin on January 29, 1970, Mr. Ryan is a fifth-generation Wisconsin native, Ryan was the youngest of four children born to Paul Ryan Sr., who worked as an attorney, and Betty, a stay-at-home mom.
In April 2000, Ryan proposed to Janna Little, a native Oklahoman, at one of his favorite fishing spots, Big St. Germain Lake in Wisconsin. Later that year, the two were married in Oklahoma City.
The Ryans reside in Janesville with their three children, Liza, Charlie and Sam. The family are parishioners at St. John Vianney Catholic Church.
Upon entering Congress in January of 1999, Ryan was the youngest member of the freshmen class at the age of 28. Prior to running for Congress, Ryan served as an aide to Republican Senators Robert Kasten Jr. and Sam Brownback, former U.S. Rep. and Vice Presidential Candidate Jack Kemp, and as a speechwriter for Education Secretary William Bennett.
Ryan is a graduate of Joseph A. Craig High School in Janesville and earned degrees in economics and political science from Miami University in Ohio. He is an avid outdoorsman and is a member is of his local archery association, the Janesville Bowmen.