Embattled Rep. Todd Akin, Missouri Republican, sent out the following e-mail to his supporters at 7:49PM EST tonight:
This weekend I made a mistake. I used the wrong words in the wrong way. What I said was ill-conceived and it was wrong and for that I apologize.

The people from Missouri who elected me know I'm not perfect. They don't make perfect people. We all make mistakes. When you make a mistake you to tell people you're sorry, you don't try and hide it. I made a mistake and I'm sorry.

I have just begun to fight and I'm in this race to the end! We must work together to replace Claire McCaskill in the Senate.

I need your help. Will you stand with me and chip-in $3 as a sign of support of my continued candidacy?

This is a crucial time and every dollar is needed. Liberals and pundits want to write me off and hand this Senate seat back to Claire. I need your help to respond.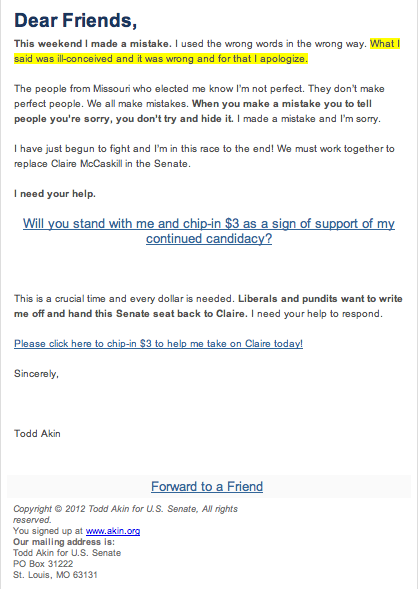 Rep. Akin, who is running for U.S. Senate against Sen. Claire McCaskill, a Democrat, made controversial remarks about rape when he was asked about his pro-life views. Republican party members and leaders are calling on Akin to step aside and allow another Republican to run against McCaskill.