New York's 4th congressional district GOP primary is on Tuesday. Two Republicans, Francis X. "Fran" Becker, a Nassau County legislator, and attorney and former Hofstra University law professor Frank Scaturro are fighting it out to face Rep. Carolyn McCarthy, a Democrat, in the general.
It is well known among New York conservative activist circles that the Nassau GOP "machine" is not known for playing clean. These same primary candidates ran against each other in 2010 and Becker, the Nassau County GOP's favorite, won the primary then.
However, after all the big support Becker received from Nassau County's Chairman Joseph Mondello during that 2010 primary, many say Becker was left to hang out to dry during the general election. Sources in Nassau County tell me Mr. Mondello is waiting for Rep. McCarthy to retire, so he can run Hempstead Councilman Tony Santino, instead.
"I don't think that's true at all. I know that Fran and [Mondello] have a very good friendship. They've known each other for many years and I know and I believe we really have [Nassau County GOP's] full support," Becker campaign spokesman Joe Lopresti told me on Friday.
"Last time, we had the primary which went until September 15, and we spent a lot of time working in the primary and by the time the general election had come we, of course, had spent a lot of resources battling it out in the primary not only against our Republican but also against Carolyn McCarthy. So, we were kind of fighting two battles at once," Lopresti said.
Michael Barone at the Washington Examiner writes:
This is an old-style political machine, lubricated by putatively voluntary contributions from county and local employees and chaired by the same man, Joseph Mondello, since 1983, which seemed to be supporting Becker, son of a former congressman, so that the nomination, and possibly a House seat in November, would not go to someone who is not one of its own. Becker spent only $307,000 in 2008 — not really a competitive amount — while incumbent Democrat Carolyn McCarthy spent nearly $1.7 million and won by only 54%-46%.
In the meantime, it appears dirty tricks are the order of the day in Nassau County, New York. According to the Scaturro campaign, the board of elections sent out absentee write-in primary ballots without the write-in option for the Conservative line labeled as it is in the sample ballot the board had issued earlier. Essentially, it is unclear as to where or even if a voter could write a candidate like Mr. Scaturro in.
OFFICIAL SAMPLE CONSERVATIVE PRIMARY BALLOT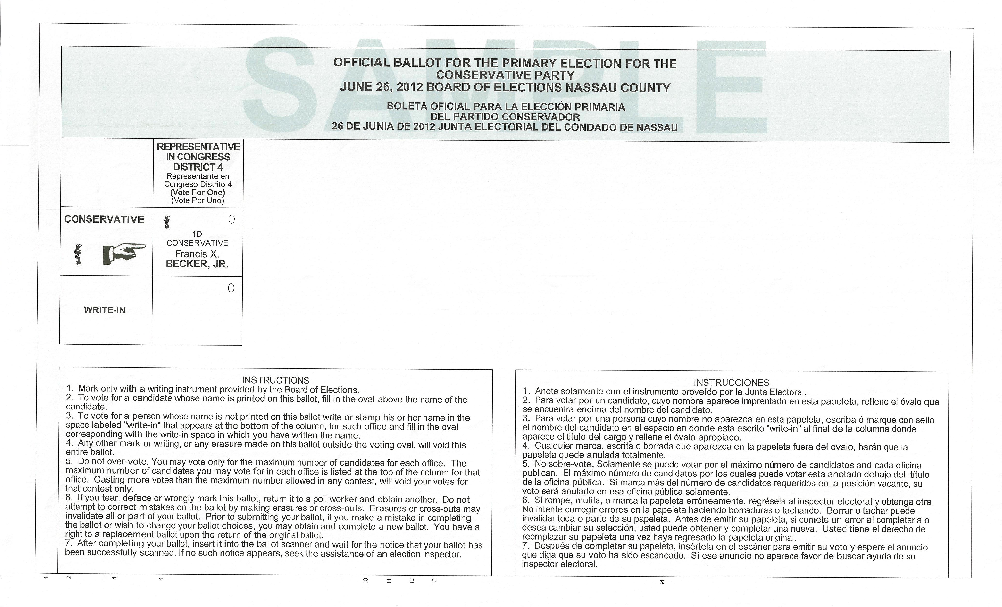 CONSERVATIVE PRIMARY BALLOT SCATURRO CAMPAIGN SAYS IS BEING SENT OUT TO VOTERS
At National Review Deroy Murdock debunks political messaging from the Becker campaign that aims to portray Mr. Scaturro as a liberal :
Scaturro worked on the Senate Judiciary Committee when then-Republican Specter chaired it, as did many other center-right attorneys, all of whom served other committee Republicans, including such constitutionalist stalwarts as Arizona's Jon Kyl and Kansas's Sam Brownback. Scaturro repeatedly receives credit for helping confirm Supreme Court justices Samuel Alito and John Roberts.

Scaturro's sterling conservative credentials aside, what makes Becker's behavior truly shocking is that, to support his scurrilous accusations, Becker's campaign doctored a September 2011 photo of Scaturro with Representative Bob Turner of New York's Ninth Congressional District. They created a completely fake image of Scaturro "with" Specter and then inserted it in a campaign circular that they distributed last week. As of Friday morning, this same material was on Becker's campaign website. In one truly unpatriotic touch, Becker's supposedly conservative operation even edited out Scaturro's American flag pin. See for yourself:
I-emailed Murdock's piece regarding the photo to Lopresti and Becker's campaign consultant Hilary Becker late Friday afternoon. I have not received a response yet.