The New York Times is reporting New York Democratic Governor Andrew Cuomo will propose on Monday to state legislators in Albany to decriminalize small amounts of marijuana:
Wading into the debate over stop-and-frisk police tactics, Gov. Andrew M. Cuomo plans to ask legislators on Monday for a change in New York State law that would drastically reduce the number of people who could be arrested for marijuana possession as a result of police stops.

The governor will call for the decriminalization of possession of small amounts of marijuana in public view, administration officials said. Advocates of such a change say the offense has ensnared tens of thousands of young black and Latino men who are stopped by the New York City police for other reasons but after being instructed to empty their pockets, find themselves charged with a crime.

Reducing the impact of the Bloomberg administration's stop-and-frisk policy has been a top priority of lawmakers from minority neighborhoods, who have urged Mr. Cuomo, a Democrat, to pay more attention to the needs of their communities. The lawmakers argue that young men found with small amounts of marijuana are being needlessly funneled into the criminal justice system and have difficulty finding jobs as a result.
New York City Mayor Mike Bloomberg's office responded to the news in a tweet: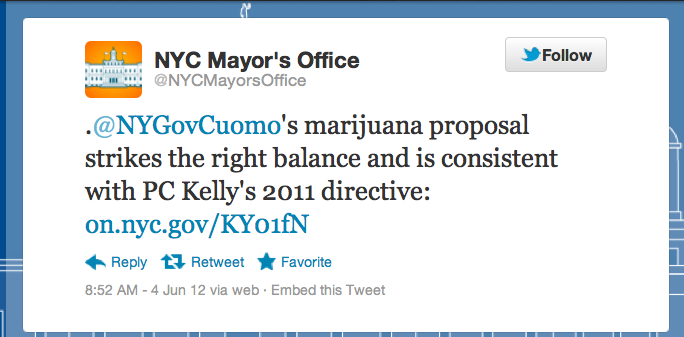 Mayor Bloomberg recently came under fire from all over the country when he put forth a proposal to ban the sale of sugary sodas and sweetened drinks over 16 ounces in New York City. Mr. Bloomberg hit back at critics saying, according to Reuters:
"I look across this country, and people are obese, and everybody wrings their hands, and nobody's willing to do something about it," Bloomberg said on his weekly radio show.

"I would criticize the federal government for not doing anything," the health-conscious Bloomberg added on WOR radio's John Gambling show. "I would criticize the state governments for not doing anything, but in the end, it's the cities that do things."

On Wednesday, Bloomberg proposed a far-reaching ban on sugary sodas larger than 16 ounces (about half a liter) in most restaurants, theaters, delis and vending carts throughout the city. It could take effect as early as next March, city officials have said.
Given Mr. Bloomberg's crusade on healthy eating, it is a little puzzling that he wants to regulate and ban sugary and salty foods. After all, when pot smokers have food cravings, the last thing they are thinking of eating is a big salad.