Aaron Jon Schock
House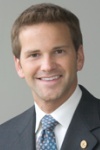 Birthdate: May 28, 1981
Birth Place: Peoria, IL, United States
Residence: Peoria, IL
Religion: Baptist
First Elected: 2008
Gender: Male

Candidacy
Party: Republican
State: Illinois
Office: House
District: District 18

Education
Undergraduate: Bradley University
Degree: BA

Aaron Schock was born in Morris, Ill., and grew up on a farm with his parents, a brother and two sisters. He still lives in Peoria.
At 19, he won a write-in campaign to become the youngest person serving on an Illinois school board, where he served from 2001 to 2005. He unseated an incumbent state representative in 2005, becoming one of the state's youngest legislators on record. He was re-elected in 2006 with 59 percent of the vote.
He was elected to the U.S. House in 2008.
Schock has also worked in real estate management. He is single.
Profile
In his second term in Congress, Aaron Schock remains one of its youngest members, at age 30.
A former Illinois state representative, in 2012 he waded back into state politics, criticizing Gov. Pat Quinn for what Schock called a lack of leadership in dealing with the state's underfunded public pensions.
Schock also briefly made headlines for collecting reimbursements from his campaign committee for stays at a luxury hotel in Greece and a resort in Miami. A spokesman said he repaid the money for the Greece trip.
Schock's age and personality make him one of the more talked-about young members of Congress, and he is often mentioned as a rising star in the Republican Party. Some of the attention, however, can be less than substantive _ as when pictures surfaced of a shirtless and fit Schock lounging around the pool.
In the wake of an Illinois scandal over Gov. Rod Blagojevich's handling of his power to appoint a new U.S. senator, Schock introduced legislation that would require Senate vacancies to be filled by special election.
Schock said he ran for Congress because he believes he can accomplish at the federal level what he did in his four years in the state Legislature.
He boasts of a solid conservative voting record coupled with an ability to win back voters Republicans have lost in recent years.
He said he is committed to a positive agenda based on conservative principles, to solving the problems confronting America today and to placing the nation where it needs to be in the future.
Schock ran into some criticism during his first term for appearing at ribbon-cutting ceremonies for brick-and-mortar projects financed by the economic stimulus package he opposed. Rachel Maddow called him out for the practice on "Meet the Press."
Source: Associated Press