Adam Smith
House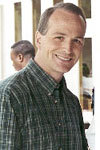 Birthdate: June 13, 1965
Birth Place: Washington, DC, United States
Residence: Tacoma, WA
Religion: Christian
First Elected: 1996
Gender: Male

Candidacy
Party: Democratic
State: Washington
Office: House
District: District 9

Education
Undergraduate: Fordham University
Degree: BA

Graduate: University of Washington
Degree: JD

Adam Smith was born in Washington, D.C., and now resides in Tacoma, Wash. He earned a bachelor's in 1987 from Fordham University and a law degree in 1990 from the University of Washington.
Smith worked as a prosecutor in Seattle, chiefly on drunken driving and domestic violence cases, and served from 1990 to 1996 in the Washington state Senate, where he was chairman of the judiciary panel.
He was elected to the U.S. House in 1996.
Smith and his wife, Sara, have two children.
Profile
Adam Smith began his congressional career as a Democrat in the Bill Clinton mold and has continued to polish his centrist credentials.
However, he also has varied his voting record enough to avoid being typecast, occasionally angering some supporters.
Smith voted against a compromise proposal to raise the nation's debt limit in 2011, saying the plan failed to provide a balanced approach to reducing the deficit _ one that should include cuts, revenue and reform. He also voted against a $27 billion B-2 bomber appropriation that would have meant a fat contract for the Boeing Co. and jobs for his district. He called the appropriation "an unbelievable waste of money."
The senior Democrat on the Armed Services Committee _ Washington's 9th District includes the largest military base in the state _ Smith has shown support for U.S. troops, including voting in 2011 against $110 billion in defense spending cuts set to go into effect on Jan. 2, 2013. In 2010, when the website WikiLeaks released classified military documents, Smith condemned the move.
He has pushed legislation to ensure access to U.S. courts for terrorism suspects captured on American soil, saying Congress should embrace the Constitution rather than fear it.
He was one of two House Democrats from the state to vote in favor of the Iraq war, but he and fellow Democratic Rep. Norm Dicks publicly reversed that position after chemical and biological weapon stockpiles were never found.
After a visit to troops in Iraq in December 2005, Smith said his vote to authorize the use of force was based on a trust of President George W. Bush that "turned out to be misplaced."
Smith was elected to Congress in 1996, following a liberal Democrat and a conservative Republican who each failed to win re-election. Two years later he became the first to be re-elected in the state's newest congressional district, which covers a mostly suburban swath from south of Seattle to south of Olympia. He has retained his seat by large margins ever since.
Smith fostered a maverick image in his first term when he rejected the conventional wisdom that new members should immediately begin raising gobs of money for their next election.
He refused to take political action committee money in 1997 or to hold fundraising events in Washington, D.C., saying credibility should be more important for Democrats than winning back a majority.
Smith was an early and ardent supporter of then-Sen. Barack Obama's 2008 presidential bid, when many other Washington state lawmakers had aligned themselves with then-Sen. Hillary Rodham Clinton. He was named chairman of Obama's presidential campaign in Washington state in August 2007.
Smith voted in favor of the 2008 $700 billion bailout of the financial industry and the 2009 approximately $800 billion economic stimulus bill, saying he hoped both would avert a more severe downturn. He also supported the 2010 health care reform bill.
Source: Associated Press