Addison 'Joe' Graves Wilson, Sr.
Addison 'Joe' Graves Wilson, Sr.
House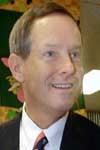 Birthdate: July 31, 1947
Birth Place: Charleston, SC, United States
Residence: Lexington, SC
Religion: Presbyterian
First Elected: 2001
Gender: Male

Candidacy
Party: Republican
State: South Carolina
Office: House
District: District 2

Education
Undergraduate: Washington and Lee University
Degree: BA

Graduate: University of South Carolina
Degree: JD

Joe Wilson was born in Charleston, S.C., and now lives in Lexington. He earned a bachelor's degree from Washington and Lee University and a law degree from the University of South Carolina.
Wilson is a founding partner at the law firm Kirkland, Wilson, Moore, Taylor, O'Day & Thomas, where he practiced for more than 25 years.
He spent 31 years in the military, first as a member of the U.S. Army Reserve from 1972 to 1975, and then in the South Carolina Army National Guard, retiring at the rank of colonel in 2003. He had served as a staff judge advocate.
He served for 17 years in the state Senate before winning election to Congress in 2001 in a special election to complete the term of the late Rep. Floyd Spence.
Wilson and his wife, Roxanne, have four sons. One of them, Alan Wilson, was elected as South Carolina's attorney general in 2010.
Profile
Joe Wilson, a five-term congressman, got the most attention for his shortest remarks.
Wilson blurted out, "You lie!" during President Barack Obama's health care address to a joint session of Congress in September 2009.
Wilson apologized to the White House and parlayed the incident into a public relations and financial bonanza, drawing campaign donations from across the country and regularly appearing on cable TV news shows.
He continued to say he never intended to insult the president and that his emotions got the better of him in what he called a "town hall moment." He said the negative attention, including being lampooned on Saturday Night Live, was not worth the money.
Wilson said at an event in his home district that he was raised to be polite, and he rattled off his civility credentials, including growing up in Charleston.
Wilson was formally admonished by a House vote in September 2009. He is the only House member ever to have been admonished by the chamber for speaking out while the president was delivering a speech, according to the Office of the House Historian.
He called the June 2012 decision by the Supreme Court upholding the 2010 health care reform bill "disastrous for the nation's economy." Wilson said he would continue to support a repeal of the legislation.
Wilson voted against the 2009 approximately $800 billion economic stimulus package. He said he opposed the measure because it "passes massive debt onto our children and could mean future tax increases on hardworking Americans.
Wilson demanded during the 2004 presidential campaign that then-candidate Sen. John Kerry apologize for his 1971 comments criticizing those who served in Vietnam. Former Sen. Max Cleland, who lost both legs and an arm in Vietnam, defended Kerry and called Wilson a "chicken hawk" for supporting military action without going to war.
Wilson is running unopposed in 2012 for South Carolina's 2nd Congressional District. The District stretches west from Columbia along the Savannah River and envelops Hilton Head Island and Beaufort on the southern coast, an area attractive to retirees. It encompasses wide economic contrasts, typically claiming both the state's highest and its lowest unemployment rate.
The 2nd District is also home to some of the state's largest military installations: the Army's Fort Jackson outside Columbia, and two major Marine Corps facilities _ Parris Island Training Depot and the Marine Corps Air Station _ are both near Beaufort.
Wilson, who retired as a colonel in the South Carolina National Guard in 2003 after 31 years in the military, said in October 2008 that decisions regarding Iraq are best left to military officers advising the president.
Wilson's four sons also have served in the military, something he mentions repeatedly at his public appearances.
Wilson is co-chairman of a group known as the Victory in Iraq Caucus.
Source: Associated Press