Alexander 'Al' Green
House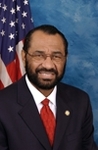 Birthdate: Sept. 1, 1947
Birth Place: New Orleans, LA, United States
Residence: Houston, TX
Religion: Baptist
First Elected: 2004
Gender: Male

Candidacy
Party: Democratic
State: Texas
Office: House
District: District 9

Education
Undergraduate: Florida A&M University
Degree: Attended

Graduate: Texas Southern University
Degree: JD

Al Green was born in New Orleans and now resides in Houston. He attended Florida A&M University and the Tuskegee Institute, and earned a law degree from Texas Southern University in 1974.
He co-founded the law firm of Green, Wilson, Dewberry and Fitch, but he left to become a justice of the peace in 1977. As president of the Houston chapter of the National Association for the Advancement of Colored People, Green helped increase the organization's membership from 500 to 3,500 and the staff size from one to 20.
Green created the Houston Fair Share program, which encourages corporations to work with minority firms and hire minority vendors. He co-founded the Black and Brown Coalition, which brings together the city's black and Hispanic communities.
Green was first elected to the U.S. House in 2004.
He is single.
Profile
Al Green has been focused on civil rights issues in 2012, primarily questioning whether African Americans are getting fair trials and opposing Texas' voter ID law, which requires Texans to produce a state-issued photo ID in order to cast a ballot.
Green voted in favor of the 2010 health care reform bill and supported President Barack Obama's decision in December 2009 to deploy 30,000 additional U.S. troops to Afghanistan.
Green has also supported legislation related to homeland security. He voted in favor of a January 2010 bipartisan bill that would authorize the Department of Homeland Security's Securing the Cities initiative. The bill included an amendment offered by Green that would expand the scope of the program to possibly include Houston and another high-risk urban city.
He co-sponsored in December 2009 the Iran Refined Petroleum Sanctions Act, which restricts refined petroleum imports to Iran and assists the U.S. government in pressuring the Iranian government to suspend its uranium enrichment program.
Green has also supported legislation aimed at canceling Haiti's debts to the International Monetary Fund, the World Bank and other institutions, and helping the Caribbean country recover from its devastating January 2010 earthquake.
Green was among Democrats in October 2008 who voted against the initial Wall Street bailout package that failed to make it through Congress. Days later, he supported the revised version that passed. He supported President Obama's 2009 economic stimulus package.
Green was involved in politics long before he was elected to the U.S. House in 2004. His roots in the community and his party affiliation gave him the edge in the Houston-area 9th District, which was redrawn by the GOP-controlled Texas Legislature in 2003.
He said his experiences "helped me to better understand the problems of the ordinary people, the people that we call the least, the last and the lost."
Green's election, combined with the re-election of neighboring district incumbent Sheila Jackson Lee, gave Houston _ for the first time _ two black members of Congress serving at the same time.
Green's time in office has not been without controversy.
A legal dispute between Green and a former director of his Houston office ended in late 2008 after both sides agreed not to pursue litigation against each other. The ex-director had accused Green of forcing her to have sex with him and not paying for his alleged misdeeds. Green said he didn't discriminate against her and accused the woman of trying to extort $1.8 million from him.
Source: Associated Press