Allen Lucas Messer
House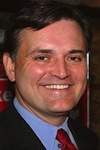 Birthdate: Feb. 27, 1969
Birth Place: Evansville, IN, United States
Residence: Shelbyville, IN
Religion: Presbyterian
Gender: Male

Candidacy
Party: Republican
State: Indiana
Office: House
District: District 6

Education
Undergraduate: Wabash College
Degree: BA

Graduate: Vanderbilt University
Degree: JD

Luke Messer was born in Evansville, Ind., and now lives in Shelbyville. He earned a bachelor's from Wabash College and a law degree at Vanderbilt University.
He worked for Reps. Jimmy Duncan and Ed Bryant of Tennessee, and for congressional candidate Virginia Blankenbaker of Indianapolis. He was a legal counsel to the House Government Reform Subcommittee.
Messer was executive director for the Indiana Republican Party from 2001 to 2005. He served in the Indiana House from 2003 to 2006. He served as co-chairman of Sen. John McCain's Indiana presidential campaign.
Messer is currently executive director of Hoosiers for Economic Growth, a not-for-profit group focused on electing candidates who support education reform.
Messer and his wife, Jennifer, have three children.
Profile
Campaigning with an endorsement from Indiana Gov. Mitch Daniels, Luke Messer defeated seven other candidates in the state's May 2012 Republican primary, winning with 40 percent of the vote. It is his third time running for Congress, but his first run in the 6th District after state redistricting.
In 2010, Messer lost by 2,267 votes to longtime Rep. Dan Burton. He also ran unsuccessfully in 2000 for the then-2nd District seat Rep. David McIntosh gave up to run for governor.
Messer describes himself as a fiscal conservative and says the United States can't spend itself out of a recession or borrow its way out of debt. He says raising taxes is the worst thing Congress could do to try to turn around the economy.
He has been an advocate for educational reform, serving as executive director for School Choice Indiana, which lobbied in support of the private school voucher program approved by state legislators in 2011.
Messer believes education decisions are best made by families at a local level. He supports streamlining federal grant dollars to the states by eliminating bureaucracies and giving local education leaders more freedom in how to spend the money.
Messer says the 2010 health care reform bill costs too much, will hamper employers and providers and will lead to a reduction in the quality of health care.
Messer says America needs a comprehensive energy plan. He says he would support a plan that includes conservation, an increase in domestic production of oil by building more refineries and increasing drilling, and incentives to increase solar, wind and other clean renewable energy sources.
In the Indiana House, Messer sponsored a bill that would allow students under 18 to drop out only because of health, financial or court reasons and another bill that would have put slot machines at Indiana horse racing tracks to help partially fund a new stadium for the Indianapolis Colts.
Messer also wrote a children's book, "Hoosier Heart," illustrated by his wife. The book was about the age-old question in Indiana: What is a Hoosier?
Source: Associated Press