Andre D. Carson
House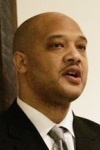 Birthdate: Oct. 16, 1974
Birth Place: Indianapolis, IN, United States
Residence: Indianapolis, IN
Religion: Islam
First Elected: 2008
Gender: Male

Candidacy
Party: Democratic
State: Indiana
Office: House
District: District 7

Education
Undergraduate: Concordia University-Wisconsin
Degree: BA

Graduate: Indiana Wesleyan University
Degree: MS

Andre Carson was born in Indianapolis, where he still resides. He was raised by his grandmother, the late U.S. Rep. Julia Carson. He earned a bachelor's in criminal justice at Concordia University in Wisconsin in 2003 and a master's in business management from Indiana Wesleyan University in 2005.
Carson was an investigator for the Indiana State Excise Police, which enforces alcoholic beverage laws.
He became a member of the Indianapolis City-County Council when a caucus of Democratic precinct committee members selected him in 2007 to fill a vacancy. Following the passing of his grandmother, Carson won a special election to the U.S. House in March 2008, succeed her in the 7th District.
Carson and his wife, Mariama, have one daughter.
Profile
Andre Carson's election to Congress in a March 2008 special election came three months after the death of his grandmother, Rep. Julia Carson, who had represented the district that covers most of Indianapolis for 11 years. He is one of two Muslims in Congress.
Carson's views are similar to those of his liberal grandmother, who was the first black representative from Indianapolis in Congress.
He was criticized in August 2011 for using a lynching metaphor to describe tea party policies he says would turn minorities into "second class citizens," saying: "Some of them in Congress right now with this tea party movement would love to see you and me ... hanging on a tree."
Protesters shouted racist slurs at Carson in March 2010 during a debate on the federal health care reform bill. Carson, who is black, said that as he left the Cannon House Office Building with Democratic Rep. John Lewis of Georgia, a leader of the civil rights era, they were taunted with chants of "the N-word, the N-word, 15 times."
"It was like going into a time machine," Carson said of his experience.
In August 2011, he voted against emergency legislation to raise the nation's debt ceiling, saying the bill favored the rich at the expense of the working class. "Under this approach, oil companies earning billions and companies exporting American jobs sacrifice nothing. Millionaires, whose low tax rates have not led to job creation, sacrifice nothing."
Carson voted in favor of the 2010 health care reform bill and questioned his state's estimate that it would cost Indiana more than $3 billion over a decade.
"Health reform is a great deal for states _ and it's an even better deal for small businesses and working families," Carson said.
Carson says Congress needs to pass legislation that will help Americans struggling to find a job. He supports the American Jobs Act, calling it a comprehensive strategy to put Americans back to work and grow the economy.
Carson believes U.S. military efforts in Afghanistan should focus on helping people there to rebuild their agriculture, transportation and education infrastructure. He says U.S. troops can't be kept in the country indefinitely.
Carson opposes privatization of Social Security and supports equal pay for women. He also says he wants to lessen the country's reliance on oil and protect the environment.
He initially voted against the 2008 federal financial industry bailout but voted in favor of a revised package, even though he conceded the legislation was "far from perfect."
Carson was raised in a Baptist church and attended a Catholic grade school. He says he once considered becoming a priest, but is now a convert to Islam. He and Democratic Rep. Keith Ellison of Minnesota are the only Muslims in Congress.
Carson doesn't believe his religious identity hurts him politically even while American Muslims struggle to gain acceptance.
"I think it's more of an advantage," Carson said. "It's a platform to address ignorance."
Source: Associated Press