Ann Louise Wagner
House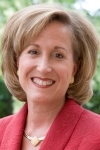 Birthdate: Sept. 13, 1962
Birth Place: St. Louis County, MO, United States
Residence: St. Louis County, MO
Religion: Catholic
Gender: Female

Candidacy
Party: Republican
State: Missouri
Office: House
District: District 2

Education
Undergraduate: University of Missouri - Columbia
Degree: BS

Ann Wagner was born, raised and currently resides in St. Louis. She received a bachelor's degree in business administration from the University of Missouri-Columbia.
After college, Wagner held management positions at Hallmark Cards and Ralston Purina.
After serving for nine years as a committeewoman in Lafayette Township, she was elected chairwoman of the Missouri GOP in 1999. In 2001, she became co-chair of the Republican National Committee.
Nominated by President George W. Bush, Wagner served as the U.S. ambassador to Luxembourg from 2005 to 2009.
Wagner and her husband, Ray, have three children.
Profile
Ann Wagner has long been involved in Republican politics in Missouri, serving as chairwoman of the Missouri Republican Party. In 2012, she is running for the 2nd Congressional District, the seat vacated by fellow Republican Rep. Todd Akin, who is running for Senate.
Wagner lists job creation as a key campaign issue. She says President Barack Obama's administration has focused too much on overregulation that has made it hard for businesses to comply. She also says that uncertainty about government policies, including health care and energy, makes it difficult for businesses to grow.
She thinks the United States must limit its debt and control its spending. She favors a balanced budget and would support a constitutional amendment requiring it.
Wagner is against the 2010 health care reform bill. She believes that health care would best thrive in a system using free-market principles, believing that forced competition within the system would drive down costs and improve quality.
Wagner says the United States must become less dependent on foreign energy sources. She is against excessive regulations imposed on the energy industry that she says "destroy our energy independence, job growth and national security, and force employers to expend resources in unnecessary and extreme regulations."
She is anti-abortion and supports defunding Planned Parenthood and similar organizations. She is opposed to gay marriage.
Source: Associated Press