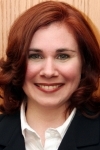 Birthdate: Sept. 23, 1967
Birth Place: Red Bank, NJ, United States
Residence: Highlands, NJ
Religion: Catholic
Gender: Female

Candidacy
Education
Anna Little was born in Red Bank, N.J., and resides in Middletown. She holds a bachelor's degree and a law degree from Seton Hall University.
Little works as an immigration attorney. She is fluent in Spanish and French and also knows Japanese and Russian.
Little has served as a Monmouth County freeholder, mayor of the borough of Highlands and councilwoman in Highlands.
Little and her husband, Robert, have three children.
Profile
Anna Little won the Republican nomination to take on incumbent Democratic Rep. Frank Pallone Jr. in the 2012 contest for New Jersey's 6th Congressional District seat.
She favors smaller government, and has called for eliminating the federal income tax, the capital gains tax and the so-called death tax as a way of spurring economic growth. She also supports a measure that would require that all bills introduced in Congress include a statement on whether they are constitutional.
Little has called for repeal of the 2010 health care reform bill. "Americans have a right to choose their own health insurance and medical providers, or forego insurance and contract directly with medical providers, free from government mandates, and any penalties for noncompliance," she says.
She acknowledges, however, that the health insurance system needs reform, but says that can be done through tort reform, health savings accounts and increased competition.
Little supports a border fence, and says illegal immigrants must not receive public services.
Little is against abortion. She favors the Castle Doctrine, which allows those who encounter intruders in their homes or vehicles to use deadly force without fear of being criminally charged or sued.
She has called for wider education choices outside of public schools.
Source: Associated Press