Anna Georges Eshoo
House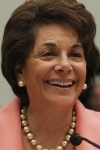 Birthdate: Dec. 13, 1942
Birth Place: New Britain, CT, United States
Residence: Atherton, CA
Religion: Catholic
First Elected: 1992
Gender: Female

Candidacy
Party: Democratic
State: California
Office: House
District: District 18

Education
Undergraduate: Canada College
Degree: AA

Anna Eshoo was born in New Britain, Conn., and now lives in Atherton, Calif. She earned an associate degree from Canada College in 1975.
Eshoo became head of the San Mateo County Democratic Party in 1980 and served on the Democratic National Committee for 12 years.
She was chief of staff in 1981 for state Assembly Speaker Leo McCarthy. She was elected in 1982 to the San Mateo County Board of Supervisors, where she served until her election to the U.S. House in 1992.
Eshoo is divorced and has two children.
Profile
Anna Eshoo, the representative from California's 14th District, has focused in Congress on issues including health care, renewable energy, environmental protection, technology, telecommunications, food and drug safety and gun safety. She represents a mostly upscale district that stretches from Silicon Valley to the coast.
In 2012, due to redistricting following the 2010 Census, Eshoo is running in California's redrawn 18th District.
Eshoo backs the right of people to marry regardless of their sexual orientation. In 2011, she co-sponsored the Respect for Marriage Act, which would repeal federal law that defines marriage as a union between a man and a woman. In 2012 she applauded the U.S. Court of Appeals decision reaffirming a lower court ruling that said California's Proposition 8, which bans same-sex marriages, was unconstitutional. She called the decision "a victory for civil rights and a critical milestone in the long battle for marriage equality."
Eshoo's district is in the heart of Silicon Valley. In mid-2011, she introduced legislation that would require accurate disclosures about terms and conditions of wireless 4G service, and a bill that would amend U.S. law to require that broadband conduit be included in new highway construction projects.
She has been a vocal critic of the Supreme Court Citizen's United decision on campaign finance.
Her opposition to the wars in Iraq and Afghanistan has been unwavering. She voted against the 2003 invasion of Iraq, against paying for the military operations once there and for an investigation into the intelligence behind the decision.
She supported in July 2010 an amendment to an Afghanistan war spending bill to require a withdrawal plan by April 2011. She said she believes the war is not winnable or definable and that President Barack Obama's strategy is not succeeding.
Eshoo also supported in 2010 financial overhaul legislation aimed at addressing regulatory weaknesses blamed for the 2008 economic crisis. She voted for the financial industry bailout passed by Congress in 2008 and for the approximately $800 billion economic stimulus package in 2009.
Eshoo has been a steady liberal vote, though she has joined with Republicans and high-tech interests on some tax and trade issues.
Eshoo was critical of President George W. Bush's administration's foreign policy after Sept. 11. She was a member of the Select Intelligence Committee and has said policymakers went beyond intelligence assessments in categorically stating that Iraq possessed chemical weapons and had restarted a nuclear program.
She was among 18 House Democrats in 2006 who urged the Justice Department to appoint a special counsel to investigate the National Security Agency's controversial telephone eavesdropping program.
Eshoo criticized the CIA's use of waterboarding and other harsh interrogation techniques on terror suspects. She backed legislation in 2010 to allow the General Accounting Office to investigate intelligence agencies under the direction of Congress.
Eshoo has authored legislation to expand Internet access at public schools and libraries, improve labeling of pharmaceuticals for children and ensure medical treatment for low-income women diagnosed with breast and cervical cancer.
Eshoo helped Democrats introduce "The Innovation Agenda," a 2005 policy plan to keep the country competitive. It calls for increased investment in research and technology and improving the country's public education system.
Eshoo is a longtime friend of House Speaker Nancy Pelosi and one of Pelosi's most enthusiastic allies.
Source: Associated Press