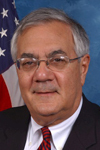 Birthdate: March 31, 1940
Birth Place: Bayonne, NJ, United States
Residence: Newton, MA
Religion: Judaism
Gender: Male

Candidacy
Education
Barney Frank was born in Bayonne, N.J., and now resides in Newton, Mass. He attended Harvard University, where he earned a bachelor's degree in 1962 and a law degree in 1977.
After working as an instructor at Harvard, Frank served as chief of staff to Boston Mayor Kevin White from 1967 to 1971. He was chief of staff to U.S. Rep. Michael Harrington from 1971 to 1972.
Frank represented Boston's liberal Back Bay and Beacon Hill in the Massachusetts Legislature from 1973 to 1980.
He was elected to the U.S. House in 1980. Frank is not seeking re-election in 2012.
Frank is openly gay. In July 2012, he married longtime partner Jim Ready in a ceremony officiated by Massachusetts Gov. Deval Patrick.
Profile
Barney Frank is quick-witted, opinionated and a fast talker. He is a skilled political debater who has emerged as a national figure on issues ranging from gay rights to financial services.
While chairman of the Financial Services Committee, Frank found himself helping lead the charge to pass the contentious 2008 $700 billion plan to bail out the ailing financial industry. He persuaded fellow House lawmakers, including reluctant Republicans, into supporting a Senate version of the bill after the initial version failed in the House.
Frank's work on the economic recovery was not over with the passage of the bailout. During President Barack Obama's administration, Frank in 2009 called for stricter regulations for banks receiving bailout funds and tackled regulatory restructuring, hoping to create overarching risk regulation for the financial industry.
He blasted banks for putting on lavish corporate retreats soon after receiving bailout money, saying they were acting "stupid." He also led a charge to cap compensation, saying it was unnecessary for bank executives to be receiving million-dollar salaries on top of multimillion-dollar bailouts.
"People really hate you," he said, asking banks to do everything possible to avoid offending people. "And they're starting to hate us just for hanging out with you."
Obama signed the financial industry regulation reform bill, which was co-sponsored by Frank, into law in July 2010.
The work made Frank a target and propelled the candidacy of his 2010 Republican challenger, Sean Bielat, an ex-Marine who charged that Frank had become detached from his district and disrespectful of its constituents. But Frank prevailed. He announced in 2011 that he would not seek a 17th term in 2012, saying that redistricting had changed his district too much.
In a July 2012 statement at a House Financial Services Committee hearing, Frank said he was hearing the same calls for deregulation that he heard in 2006 and that people are blaming the country's economic problems today on too much regulation.
"So we are being told the problem now is not enough freedom for the people whose irresponsibility caused this problem," he said. "We are being told to back off; we are being told that the regulations are too complicated for these poor people in the financial industry to understand. Well you know what was too complicated for them to understand, their own razzle-dazzle shenanigans. That's what got them into trouble."
He sponsored an amendment to the defense appropriations bill in 2012 with Republican Rep. Mick Mulvaney of South Carolina that would reduce the 2013 military budget by $1.1 billion. The military "has three ways to destroy a Soviet Union that doesn't exist anymore," Frank said.
During his tenure, Frank was one of the House's most reliable liberal Democratic voices and was among the fiercest critics of President George W. Bush's administration.
He opposed the decision to invade Iraq and criticized Bush's tax cuts, saying the country couldn't afford both at the same time. He also argued against Bush's prescription drug legislation.
Frank has raised concerns about bank mergers and pushed banks to minimize job loss and maintain commitments to low-income lending and charitable contributions. He has urged more stringent efforts to detect and respond to corporate wrongdoing.
In 1987, Frank became the first House member to acknowledge voluntarily that he is gay. He criticized President Bush's call for a constitutional amendment defining marriage as between a man and a woman, saying each state should decide how to define marriage.
Frank also was critical of President Bill Clinton's "don't ask, don't tell" compromise on gays in the military.
In 1990, the House voted to reprimand Frank for his official actions on behalf of a male prostitute. The decision followed an ethics probe into Frank's relationship with Stephen Gobie, an aide hired by Frank with personal funds.
Frank also was cited for using his congressional authority to avoid paying 33 parking tickets.
He has supported abortion rights and opposed the death penalty.
Source: Associated Press