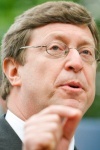 Birthdate: Sept. 12, 1959
Birth Place: Versailles, KY, United States
Residence: Versailles, KY
Religion: Presbyterian
First Elected: 2004
Gender: Male

Candidacy
Education
Ben Chandler was born in Versailles, Ky., where he still resides. He attended the University of Kentucky where he earned a bachelor's in history and a law degree.
Chandler is the grandson of A.B. 'Happy' Chandler, who served as a commissioner of baseball, a U.S. senator and twice as governor of Kentucky.
The younger Chandler served as state auditor of Kentucky from 1992 to 1996 and was elected attorney general in 1995, becoming the youngest attorney general in the nation at the time. He was re-elected in 1999.
Chandler ran unsuccessfully for governor in 2003, and then won election to the U.S. House in 2004.
He and his wife, Jennifer, have three children.
Profile
Casting himself as a centrist Democrat, Ben Chandler has compiled a mixed voting record on President Barack Obama's key domestic initiatives.
Chandler voted for the 2009 approximately $800 billion economic stimulus plan, but opposed a 2010 bill overhauling financial industry regulations.
He broke rank with Democrats in early 2010 and voted against the health care reform bill backed by Obama. The reform faced harsh opposition in Kentucky and its passage ignited protests across the state.
Heir to one of the most famous names in Kentucky politics, Chandler cruised to re-election in 2008, but found himself a Republican target in 2010. His opponent that year, Republican Andy Barr, rode a wave of anti-Democrat political sentiment that nearly overcame the venerable Chandler name. Chandler won by a margin of 648 votes.
Barr easily won the May 2012 primary in the central Kentucky district to set up a rematch with Chandler in the November general election.
Chandler urged Congress in 2011 to take up the Obama-proposed American Jobs Act, saying the measure would put people back to work. He said the act would result in hundreds of thousands of nationwide construction jobs to rebuild roads, bridges, rail lines, schools and airports.
As a member of the House Intelligence Committee, Chandler was among a select number of congressmen allowed to view gruesome photographs of Osama bin Laden's corpse. Chandler said the images should have been released to the world as a reminder of the retribution awaiting terrorists.
"I think it's perfectly reasonable for people across this planet to understand that when somebody behaves that way, there are dramatic consequences," Chandler said. "And this man was the recipient of a dramatic consequence."
Chandler ran into a public relations hurdle less than a month before the 2008 election when the TV program "Inside Edition" aired a segment on a trip Chandler and four other members of the House science panel took to the Galapagos Islands. The lawmakers were filmed staying in seaside suites and enjoying snorkeling excursions, all paid for with public money. Chandler's spokeswoman later defended the trip, explaining that he used information from the trip to pass legislation addressing the region's environmental problems.
Chandler's 6th District in central Kentucky was touched by tragedy in August 2006 when Comair Flight 5191 crashed shortly after takeoff at Lexington's Blue Grass Airport, killing 49 of the 50 people onboard.
Chandler responded by calling for greater scrutiny of air travel. He introduced a bill aimed at taking a closer look at the Federal Aviation Administration's airport safety programs.
Chandler ruled out a second bid for governor in 2007, even though his chances were seen as good to topple then-incumbent Republican Gov. Ernie Fletcher.
"It was a very difficult decision when I look at this as possibly a once-in-a-lifetime opportunity," Chandler said at the time. "It's difficult to turn that down, frankly, and that's what I'm doing. I'm turning that down."
Source: Associated Press