Ben Ray Lujan, Jr.
House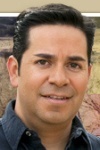 Birthdate: June 7, 1972
Birth Place: Santa Fe, NM, United States
Residence: Nambe, NM
Religion: Catholic
First Elected: 2008
Gender: Male

Candidacy
Party: Democratic
State: New Mexico
Office: House
District: District 3

Education
Undergraduate: New Mexico Highlands University
Degree: BBA

Ben Ray Lujan was born in Santa Fe, N.M., and resides in Nambe. He received a bachelor's degree from New Mexico Highlands University.
He held several positions in state government. Lujan served one term as an elected member of the state Public Regulation Commission, a utility regulatory panel. He served as its chairman from 2005 to 2007.
He also was chief financial officer and director of administrative services for the state Department of Cultural Affairs and a deputy state treasurer.
Lujan also has worked for an Albuquerque, racetrack and for casinos in New Mexico and Nevada.
Lujan was elected to the U.S. House in 2008.
He is not married.
Profile
Ben Ray Lujan faced no Democratic challengers in his quest for a third term representing New Mexico's 3rd District in the U.S. House. In the fall, he will face Republican Jefferson Byrd, a rancher from Tucumcari.
Lujan was first elected to the House in 2008, succeeding Tom Udall, who ran for the Senate. Democrats outnumber Republicans by more than a 2-1 ratio in the congressional district, located in northern and eastern New Mexico.
Since joining Congress, Lujan has been a reliable vote for House Democrats and President Barack Obama's administration. In 2012, he voted for an extension of the payroll tax cut and unemployment benefits for the rest of the year. He called the measure a "boost to middle-class workers during this difficulty economic time."
He also has supported stronger rules against insider training by members of Congress, the executive branch and other federal officials. On his website he called the bill "commonsense legislation."
He voted for the health care reform bill signed into law by Obama in March 2010. In a statement on his website, he said the measure "will make coverage more affordable and secure for those with insurance, extend coverage for those without insurance."
Lujan also supported the 2009 federal stimulus package, an energy bill that included a controversial cap-and-trade plan and efforts to reform Wall Street.
He sought during his first term in Congress to expand tax credits that encourage renewable energy production. He also voted for the State Children's Health Insurance Program and a measure aimed at decreasing home foreclosures.
He sits on the Natural Resources Committee and the Science, Space, and Technology Committee. In June 2012, he was named ranking member of the Indian and Alaska Native Affairs Subcommittee.
In April 2012, with fellow New Mexican Rep. Martin Heinrich, Lujan called on the federal government to clean up hundreds of abandoned uranium mines on the Navajo Nation.
A member of the Democratic Caucus' Jobs Task Force, Lujan voted in favor of legislation designed to create jobs by granting tax relief to small businesses and other investments. He also co-sponsored a measure requiring legislation to be budget neutral in an effort to reduce the national deficit.
He also is a member of the Hispanic Congressional Caucus.
Lujan is the son of former New Mexico House Speaker Ben Lujan Sr., who served as speaker from 2001 until he announced in 2011 that he would not seek re-election due to his ailing health. The elder Lujan had served in the state House since 1975.
Source: Associated Press