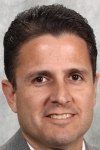 Birthdate: March 23, 1969
Birth Place: Los Angeles, CA, United States
Residence: Lakewood, CA
Religion: Christian
Gender: Male

Candidacy
Education
Ben Campos was born in Los Angeles to Mexican immigrant parents. He grew up in the city of Paramount and now lives in Lakewood.
After high school, Campos enlisted in the Army and completed his service at bases in Kentucky and California. He then earned a bachelor's in accounting from California State University-Long Beach.
He became a certified public accountant and has experience running his own business.
Campos and his wife, Tracy, have four daughters.
Profile
Ben Campos advocates for a more limited role for government and a reduction in government spending. He also wants all appropriations bills to be made available to the public via the Internet at least 20 days before they can be considered being made law.
Campos believes that reducing taxes will stimulate economic growth and he advocates for the elimination of the alternative minimum tax.
He favors increasing offshore oil drilling to achieve greater energy independence and create more jobs. He also supports exploring alternative energy sources so long as these do not require government subsidies.
Campos opposes the 2010 health care reform law and says he would vote to repeal it.
Source: Associated Press