Bennie G. Thompson
House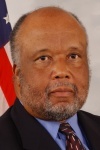 Birthdate: Jan. 28, 1948
Birth Place: Bolton, MS,
Residence: Bolton, MS
Religion: Methodist
First Elected: 1993
Gender: Male

Candidacy
Party: Democratic
State: Mississippi
Office: House
District: District 2

Education
Undergraduate: Tougaloo College
Degree: BA

Graduate: Jackson State University
Degree: MS

Graduate: University of Southern Mississippi
Degree: Attended

Bennie Thompson is a lifelong resident of Bolton, Miss. He earned a bachelor's degree at Tougaloo College and a master's at Jackson State University. He completed coursework for a doctorate in public administration at the University of Southern Mississippi.
Thompson was one of several plaintiffs who sued Mississippi in 1975, alleging the state had neglected its three historically black universities. A 2002 settlement directed the state to spend $503 million over 17 years.
Thompson was a teacher, mayor and alderman of Bolton, and Hinds County supervisor before being elected to Congress in 1993.
Thompson and his wife, London, have a daughter.
Profile
Bennie Thompson faces in November 2012 the same Republican he defeated in 2010, Bill Marcy of Vicksburg. Cobby Mondale Williams, an independent, is also in the race.
In the March 2012 Democratic primary, Thompson received 87 percent of the vote, defeating Heather McTeer, who had served two terms as Greenville mayor.
Thompson told potential voters in early 2012 in Jackson: "I have always maintained an open-door policy. I am kind of a country boy at heart. I hunt, I fish, I plant a garden, I cut my own grass. I do a lot of unorthodox things. But I love representing the people, and I love making the system work on behalf of the people."
From early 2007 until early 2011, Thompson was chairman of the House Homeland Security Committee. After Republicans won control of the House in the November 2010 election, Thompson became the committee's ranking Democrat.
He has called on the White House to increase spending in rural areas, including his district, which is primarily in the Mississippi Delta and is one of the poorest in the nation.
Thompson said the United States should work with its Mexican counterparts and strengthen law enforcement's capacity to combat the violence at the U.S.-Mexican border. He said a proposed virtual fence to monitor the 2,000-mile border was an expensive disappointment because it had only been partially developed in Arizona.
Thompson has pushed for additional workplace protections for Transportation Security Administration officers. He co-sponsored legislation to allow more than 42,000 TSA employees to bargain collectively and receive whistle-blower protection.
Thompson has gone against most of his counterparts in the Mississippi congressional delegation, consistently voting for President Barack Obama's proposals, including the 2009 economic stimulus package and the 2010 health care reform bill.
Thompson supported efforts by catfish farmers in his district to require country-of-origin labels on imported catfish.
He called on the Justice Department to investigate juvenile training schools in Mississippi. The federal government filed a lawsuit over conditions at the schools and the state was forced to make improvements, including closing one of the schools in 2008.
Thompson has supported the efforts of labor unions to organize in Mississippi, a mostly non-union state.
He was the only member of the Mississippi congressional delegation to vote for bills that would give federal protection to abortion clinics, physicians who work there and the women who seek abortions in the facilities. He also was the only one of his delegation to vote with the House majority to ban 19 models of assault-style weapons.
Source: Associated Press