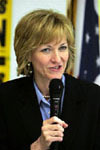 Birthdate: July 31, 1963
Birth Place: Barberton, OH, United States
Residence: Copley Township, OH
Religion: Methodist
First Elected: 2006
Gender: Female

Candidacy
Education
Betty Sutton was born and raised in Barberton, Ohio, and now lives in Copley Township. She earned a bachelor's in political science from Kent State University in 1985 and a law degree from the University of Akron in 1990.
Sutton's father battled with lung cancer while she was in college, inspiring her to turn her attention to public service. After he died in 1989, she ran successfully for an at-large seat on the Barberton City Council, where she served for one year. She served for two years on the Summit County Council.
She was elected to the Ohio House in 1993, serving until 2000. She then worked as a labor lawyer with the firm Faulkner, Muskovitz & Phillips LLP.
Sutton won election to the U.S. House in 2006.
She and her husband, Doug, have two children.
Profile
Betty Sutton was first elected to Congress in 2006 in a district that stretched from Akron west and northwest to Lorain and the Lake Erie shoreline. Redistricting in 2012 put her in the redrawn 16th District against incumbent Republican Rep. Jim Renacci.
A longtime ally of organized labor, Sutton was active working with unions against a move in Ohio to trim the collective bargaining rights for public employees. The measure was overturned at the polls, giving labor a big win in 2011 heading into the presidential election year.
"Join me in standing against this attack on those who serve our communities as public sector employees," Sutton said in an appeal for support to overturn the state legislation.
She called the measure backed by Republican Gov. John Kasich an "unfair, backward-thinking attack" on firefighters, police, teachers and other public employees, many of them Sutton backers.
She landed new committee assignments in 2011, including the powerful Armed Services Committee and the Natural Resources Committee, which has control of national parks, including the Cuyahoga Valley National Park between Cleveland and Akron.
Sutton's policy initiatives include backing for buy-American programs, in support of transportation projects and fighting against trade practices that hurt U.S. workers.
"The money we spend to rebuild our transportation and infrastructure, if we spend it here, it leads to jobs here," she said in a 2012 floor speech on a transportation funding bill.
"If we invest in American iron, steel and manufactured goods, we are investing in the people who produce those products."
Sutton was the chief sponsor of the 2009 Cash for Clunkers bill that used vouchers worth up to $4,500 to encourage consumers to swap their gas-guzzling cars and trucks for more fuel-efficient vehicles.
Sutton's congressional work draws in part on her experience as a labor lawyer, representing police, firefighter, teacher and nurse unions in contract negotiations.
Source: Associated Press