William 'Bill' Huizenga
House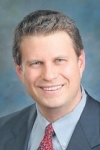 Birthdate: Jan. 31, 1969
Birth Place: Zeeland, MI, United States
Residence: Zeeland, MI
Religion: Christian Reformed
First Elected: 2010
Gender: Male

Candidacy
Party: Republican
State: Michigan
Office: House
District: District 2

Education
Undergraduate: Calvin College
Degree: BA

Bill Huizenga was born in Zeeland, Mich., and currently lives there. He received his bachelor's degree from Calvin College in Grand Rapids.
Huizenga became a real estate agent after college. He turned down a chance to work for U.S. Rep. Pete Hoekstra of Holland in 1994, but in 1997 became Hoekstra's director of public policy, a job he handled from west Michigan. He served as Hoekstra's district director from 1996 to 2002.
He bought part of a small business, Huizenga Gravel Inc., in Jenison in 1999. He now co-owns the business.
He and his wife, Natalie, have five children.
Profile
As a state legislator and freshman member of the U.S. House, Bill Huizenga has staked out positions in step with Michigan's heavily Republican 2nd District, which runs north and south along the Lake Michigan shoreline. He voted repeatedly to repeal President Barack Obama's health care program.
"I and my House colleagues will not stop fighting until we can fully repeal the mess that is ObamaCare," he said in March 2012 after casting his 26th vote to repeal or cut funding from the program.
Huizenga supported a compromise measure to boost the debt ceiling and avoid a government default, and he backed a GOP bill seeking expanded domestic oil drilling while curbing Environmental Protection Agency regulations.
A staunch abortion foe, he introduced a measure that would prohibit use of Department of Homeland Security funds to pay for abortions. He voted for a bill allowing private companies and the government to share information that could prevent computer hacking.
Huizenga was among a minority of Michigan's House delegation to host town hall meetings open to all comers during the 2011 summer recess, when the battle over the debt ceiling and rising voter discontent led many lawmakers to meet only with friendly audiences or in remote locations away from the media spotlight.
"There's still something about holding a town hall meeting and giving people a chance to see you face to face," he said.
Huizenga also waded into a debate between two competing businesses in his district. He sponsored legislation that would enable operators of the coal-fired ferryboat S.S. Badger to continue dumping waste ash into Lake Michigan, defying an Environmental Protection Agency regulation. A rival ferry company complained that the measure would show favoritism toward the Badger.
Huizenga used the political skills he learned working for U.S. Rep. Pete Hoekstra and his experience as a small business owner to win a seat in the Michigan House in 2002. He served the state's 90th District for six years, the maximum allowed under term limits.
He jumped into a crowded field of seven Republicans in 2010 to run for Hoekstra's seat after Hoekstra decided to run for Michigan governor. Huizenga won the primary with 25 percent of the vote.
He's a member of the National Rifle Association, was the 2nd Congressional District GOP chairman from 2007 to 2008 and is a longtime duck hunter.
Huizenga said in December 2008 that it was "probably necessary" for Washington to loan money to General Motors and Chrysler to avoid "a major collapse in the economy." He also differed with many conservatives by opposing efforts to rein in Michigan's generous film credits, saying they were drawing jobs to the state. He voted against increasing the state's college scholarship program to $4,000 per student in 2006.
Source: Associated Press