Bill L. Johnson
House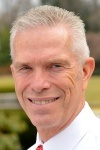 Birthdate: Nov. 10, 1954
Birth Place: Roseboro, NC, United States
Residence: Marietta, OH
Religion: Christian
First Elected: 2010
Gender: Male

Candidacy
Party: Republican
State: Ohio
Office: House
District: District 6

Education
Undergraduate: Troy University
Degree: BS

Graduate: Georgia Institute of Technology
Degree: MS

Bill Johnson was born in Roseboro, N.C., and now lives in Marietta, Ohio. He earned a bachelor's degree from Troy University in 1979 and a master's degree from the Georgia Institute of Technology in 1984.
Johnson joined the U.S. Air Force in 1973 and retired more than 26 years later as a lieutenant colonel. He served as staff director for the chief information officer at the U.S. Special Operations Command and received three medals during his service.
He formed J2 Business Solutions Inc. and co-founded the Johnson-Schley Management Group Inc., an information-technology consulting company.
From 2006 to 2010, Johnson was the chief information officer of Stoneridge Inc., a manufacturer of electronic components for the transportation industry.
He and his wife, LeeAnn, have a son. Johnson also has three other children.
Profile
Bill Johnson's 2012 congressional campaign marks a rematch with Charlie Wilson, the Democrat he defeated two years earlier. In 2010, Johnson received 50 percent of the vote to Wilson's 45 percent.
Johnson, who served in the U.S. Air Force, was a member of the House committees on foreign affairs, natural resources and veterans' affairs during his first term. In July 2011, he sponsored a measure later signed into law that provided funding for VA hospital construction projects and extended programs to help homeless veterans with special needs and to provide housing assistance for disabled veterans living with relatives.
Johnson also sponsored a bill that would add to the World War II Memorial in Washington a plaque with Franklin Roosevelt's prayer to the nation on D-Day in 1944. He said the prayer comforted and strengthened soldiers who went on to make history that day and is a fitting honor for "all those who have made and continue to make extraordinary sacrifices to advance the cause of freedom and to stop the spread of tyranny around the world." The House passed the bill, sending it to the Senate by mid-2012.
Months after taking office, Johnson got a bit of attention for a social media mishap. In July 2011, a hacker accessed his Twitter account, posting nonsensical messages and replacing his profile picture with a digitally manipulated image of a naked man. The material was quickly removed, and Johnson's office apologized for any offense to viewers.
His top priority in running for Congress in 2010 was the economy and job creation, and he continued that theme in 2012 while arguing for a repeal of the 2010 health care reform bill.
"This disastrous law is full of broken promises covered in empty political rhetoric that continue to make our economy worse," he said after the U.S. Supreme Court upheld the law in June 2012.
He's been an advocate of balancing the budget, holding down spending to reduce the national debt, and decreasing taxes for all income levels to stimulate economic growth and investment in businesses and jobs.
He also has pushed for greater U.S. independence in energy. He says the country's energy problems require "a buckshot approach" instead of a singular silver-bullet solution, and he has promoted a variety of steps to allow more energy development and reduce regulations that he says hinder job growth in the industry.
He supports opening more of the Gulf of Mexico to oil drilling exploration.
Source: Associated Press