William 'Bill' Shuster
House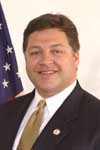 Birthdate: Jan. 10, 1961
Birth Place: McKeesport, PA, United States
Residence: Hollidaysburg, PA
Religion: Lutheran
First Elected: 2001
Gender: Male

Candidacy
Party: Republican
State: Pennsylvania
Office: House
District: District 9

Education
Undergraduate: Dickinson College
Degree: BA

Graduate: American University
Degree: MBA

Bill Shuster was born in McKeesport, Pa., and lives in Hollidaysburg. He earned a bachelor's in political science and history at Dickinson College and a master's in business administration at American University in Washington, D.C.
Shuster managed retail stores for Goodyear Tire & Rubber Co., then later became a district manager for Bandag Inc.
He owned and operated Shuster Chrysler, Dodge and Jeep in East Freedom before his election to the U.S. House in May 2001.
Shuster and his wife, Rebecca, have two children.
Profile
Bill Shuster's reputation in Congress is tied to his father, Bud Shuster, a former chairman of the House Transportation and Infrastructure Committee who resigned from Congress after he failed to get an exception to a six-year term limit on chairmanships. Bill Shuster won his father's seat in Pennsylvania's 9th District in a May 2001 special election.
The elder Shuster was known as a tireless benefactor for his district as evidenced by the Bud Shuster Highway _ Interstate 99 _ running through west-central Pennsylvania. The younger Shuster retains a post on the committee once headed by his father.
As a deputy whip, Shuster helps the GOP leadership secure votes and craft its agenda on the House floor.
His congressional office says Republicans' ability to move legislation has been hamstrung by Democrats. So, Shuster has concentrated on "minimizing the damage" from Democratic bills _ such as the 2010 health care reform bill _ that he says would hurt his constituents.
In July 2012, he voted in favor of a bill designed to streamline the federal regulatory process. He said the measure would "spur job creation and ultimately put Americans back to work."
Shuster voted in July 2012 to repeal the 2010 health care reform bill. He is a co-sponsor of the repeal measure. He says on his website that he wants to replace the law "with reforms that will reduce costs and make health care accessible for every American."
Shuster joined other Republicans in criticizing the 2009 approximately $800 billion economic stimulus package as an unfettered, spending spree that could have long-term ramifications for taxpayers.
In trying to address problems in the ailing housing industry, Shuster co-sponsored legislation in March 2009 that would give homeowners who are in good standing with their mortgage payments a $5,000 tax credit.
Shuster in 2009 also co-sponsored a bill aimed at reining in fees that banks charge merchants in exchange for accepting credit cards from customers.
In 2011, he re-introduced legislation to improve bus and motor coach safety. He also introduced a 2008 bill that would provide continuous medical care to children transitioning out of research studies with the National Institutes of Health.
Shuster is chairman of a Transportation and Infrastructure subcommittee overseeing railroads, a key post for a congressman whose district has deep roots in the industry. He also played a role in 2005 in pushing for the passage of a $286.4 billion highway-funding bill.
Shuster said his time on the Armed Services Committee gave him insight into how the military must change to meet emerging threats such as Islamic fundamentalism.
"Jihadist terrorism remains the most pressing threat to our national security," he said in a statement on his House website.
During the 9/11 terrorist attacks, United Flight 93 crashed in Shuster's 9th District, killing 40 passengers and crewmembers. Shuster had urged the National Park Service to finish the Flight 93 National Memorial by the 10th anniversary of the terrorist attack. The memorial was completed and dedicated on September 10, 2011.
Source: Associated Press