Billy Long
House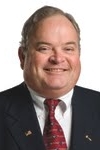 Birthdate: Aug. 11, 1955
Birth Place: Springfield, MO, United States
Residence: Springfield, MO
Religion: Presbyterian
First Elected: 2010
Gender: Male

Candidacy
Party: Republican
State: Missouri
Office: House
District: District 7

Education
Billy Long was born in Springfield, Mo., where he still resides. He started his first small business with his sister while still in high school. He then graduated from the Missouri Auction School in Kansas City and started his own auctioneering company.
Long also had an AM talk radio show from 1999 to 2006 that could be heard throughout southwestern Missouri.
He is a member of the National Association of Realtors and the National Auctioneers Association, and has served on the national board of directors for both. He is a bass fisherman and has competed in tournaments since he was a teenager.
Long and his wife, Barbara, have two daughters.
Profile
Billy Long was first elected to Congress in 2010, succeeding fellow Republican Roy Blunt, who was elected that same year to the U.S. Senate from Missouri.
He campaigned heavily as a political outsider who grew up in southwestern Missouri and had strong business credentials. He won an eight-way Republican primary in 2010 that included two state senators who represented part of the district in the state Legislature. In the general election, Long defeated Democrat Scott Eckersley, a former aide to Republican Gov. Matt Blunt, with 63 percent of the vote.
Long adopted the campaign slogan "fed up" and said several times that Congress already had enough political experience to "choke a horse." He said too many federal lawmakers have made elected politics a career instead of serving for several years and returning home.
Long calls himself "100 percent pro-life" and touts his ranking by one publication as the state's most conservative member of Congress.
He favors a repeal of the 2010 health care reform law backed by President Barack Obama, and he supports a constitutional amendment capping federal spending and requiring a balanced federal budget. Long opposes federal budget earmarks that allow lawmakers to appropriate money for specific projects.
He supports drilling offshore and in Alaska's Arctic National Wildlife Refuge. Long also calls for building more nuclear power plants and developing coal technology. He opposes abortion and same-sex marriage.
Source: Associated Press