Blaine Luetkemeyer
House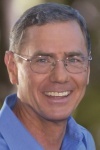 Birthdate: May 7, 1952
Birth Place: Jefferson City, MO, United States
Residence: St. Elizabeth, MO
Religion: Roman Catholic
First Elected: 2008
Gender: Male

Candidacy
Party: Republican
State: Missouri
Office: House
District: District 3

Education
Undergraduate: Lincoln University
Degree: BA

Blaine Luetkemeyer was born in Jefferson City, Mo., and resides in St. Elizabeth. He earned a bachelor's degree from Lincoln University, a historically black college.
Luetkemeyer served six years in the state House, from 1999 to 2005, and he chaired the House Republican Caucus. He was appointed state tourism director in October 2006 and spent two years in that job before deciding to run for Congress.
Luetkemeyer previously owned an insurance company and was involved in the family-owned Bank of St. Elizabeth.
He was elected to the U.S. House in 2008.
Luetkemeyer and his wife, Jackie, have three children.
Profile
Blaine Luetkemeyer fought against proposed regulations in March 2012 that would restrict the work that children and teens could do on farms.
Rules proposed by the U.S. Department of Labor would have barred people younger than 18 from working in grain elevators, silos and feed lots and barred teens younger than 16 from operating most power-driven equipment. Luetkemeyer said young people should be able to help neighbors bale hay, care for livestock and do other basic farm work.
He sponsored legislation that was approved by the House in April 2012 authorizing commemorative coins honoring Missouri-born writer Mark Twain. Luetkemeyer's district includes Twain's boyhood hometown of Hannibal. He says the writer is an important part of American history and that the coins would help preserve Twain's legacy.
Luetkemeyer faced no opponent in the August 2012 Republican primary and is running against a Democratic and Libertarian candidate in a significantly redrawn congressional seat. Redistricting removed from his district northeastern Missouri and the college town of Columbia. It now stretches from the Lake of the Ozarks east to the Mississippi River while passing north and south of St. Louis.
Luetkemeyer won re-election in 2010 and was just the second Missouri incumbent congressman since 1984 to run unopposed by a challenger from a major opposing party.
In Washington, he voted against the economic stimulus act in 2009 and against the federal health care overhaul in 2010. Luetkemeyer applauded activists around the country who held tea parties in March 2009 in protest of Washington's spending.
He successfully shepherded a resolution through Congress in his freshman year designating the Winston Churchill museum at Westminster College in Fulton, Mo., as "America's National Churchill Museum."
He was one of five Republicans in 2008 seeking to succeed incumbent Rep. Kenny Hulshof, who ran for governor. Luetkemeyer won the November general election against Democratic state Rep. Judy Baker, taking 50 percent of the vote to her 47.5 percent.
During that campaign, Luetkemeyer said he favored off-shore oil drilling as a way to combat high gas prices.
Source: Associated Press