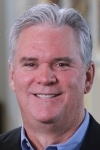 Birthdate: Jan. 3, 1954
Birth Place: Belleville, IL, United States
Residence: O'Fallon, IL
Religion: Catholic
Gender: Male

Candidacy
Education
Brad Harriman was born in Belleville, Ill. He played football at Western Illinois and Missouri-Rolla before earning a bachelor's in secondary physical education in 1978 from Southern Illinois University-Edwardsville.
Harriman signed professional football contracts with Atlanta in 1977 and with Buffalo in 1978 before returning to Belleville to begin his education career.
Harriman has taught in Belleville-area public and Catholic schools. During his 13 years at Althoff Catholic High School, he took the football team to three state championships and was named Illinois Basketball Coaches Association coach of the year. He later taught youths incarcerated in the St. Clair County Juvenile Detention Center.
Harriman served as the St. Clair County regional schools superintendent from 2006 through September 2011, along the way earning a master's degree in education from SIU-Edwardsville.
Brad and his wife, Karen, a former St. Louis Cardinals football cheerleader, live in O'Fallon.
Profile
A retired educator and regional schools superintendent, Brad Harriman won Illinois' March 2012 Democratic primary for the state's 12th District U.S. House seat being vacated by Rep. Jerry Costello, a Democrat who announced in October 2011 he would not seek a 13th term.
Costello endorsed Harriman, who was set to face Republican Jason Plummer _ a lumber company executive and developer _ in the November general election. But Harriman abruptly withdrew from the race on May 29, 2012, citing an unspecified neurological condition he said wasn't life threatening but would worsen without surgery.
On June 23, 2012, Democratic heads of the 12th District's counties chose Belleville attorney and retired Illinois National Guard commander Bill Enyart to replace Harriman on the November ballot. Enyart, who has never held elected public office, was among seven prospective Democratic nominees who interviewed publicly.
Observers expect the race to be a pricey one, with Republicans viewing the seat held since World War II by only two Democrats _ Jerry Costello since 1988 and Mel Price for 44 years before that _ as one they can flip to the GOP ledger.
The district runs from St. Louis' Illinois suburbs to the state's southernmost tip, encompassing a large swatch of economically stressed territory that Republicans say has been trending more conservative.
Looking to represent counties grappling with some of the state's highest unemployment, Harriman considered job creation the race's preeminent issue. Addressing that, he believed, involves improving the region's infrastructure to lure in new development.
"I also understand the need and am committed to standing up for smarter government spending and controlling the deficit while protecting the retirement security of southern Illinois seniors who, like my mother, rely on Social Security," he told The Associated Press in April 2012.
Harriman advocated on his website for health care reform that would reduce doctors' costs and bureaucratic red tape, and he supports federal assistance for local schools to improve standards. He also said he wanted to see expansion of domestic drilling for oil and natural gas, and more research into alternative energy production.
Source: Associated Press