Brad Sherman
House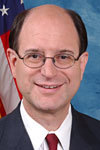 Birthdate: Oct. 24, 1954
Birth Place: Monterey Park, CA, United States
Residence: Sherman Oaks, CA
Religion: Judaism
First Elected: 1996
Gender: Male

Candidacy
Party: Democratic
State: California
Office: House
District: District 30

Education
Undergraduate: University of California - Los Angeles
Degree: BA

Graduate: Harvard University
Degree: JD

Brad Sherman was born in Monterey Park, Calif., and now lives in Sherman Oaks. He earned a bachelor's in accounting and public policy from the University of California-Los Angeles in 1974 and a law degree from Harvard University in 1979.
His family has been active in politics, particularly his mother, Lane Sherman, a grassroots Democratic political activist who has helped her son in his campaigns.
Sherman was an accountant before winning election to the state Board of Equalization in 1990. He chaired the board from 1991 to 1995.
Sherman served on the board of California Common Cause from 1985 to 1989. He was elected to the U.S. House in 1996.
Sherman and his wife have two children.
Profile
Brad Sherman's challenge in 2012 is distinguishing himself from someone who is his political cousin _ Rep. Howard Berman, a fellow Democrat who landed on the 30th District ballot because of redistricting. A new primary system that advances the two highest vote-getters matched them in a general election showdown that could become the most expensive House race in the nation.
The two candidates spent more than $5 million prior to the June 2012 primary.
Sherman and Berman come to the race sharing a neighborhood, a religion and similar political pedigrees _ they are Jewish liberals from Los Angeles' suburb-like San Fernando Valley with undergraduate degrees from the University of California-Los Angeles.
Sherman, first elected in 1996, represents about 55 percent of the new district and ended up with a 10-point edge over his rival in the June primary.
The race has largely been a long-running and expensive argument over who delivers more for constituents in the way of roads, parks, police and other services. Sherman has been touting his support from former President Bill Clinton and his close attention to district affairs _ he's held dozens of town halls in the district.
In Washington, Sherman's political views sometimes stand out next to those of his Democratic colleagues.
He hasn't been afraid to buck President Barack Obama _ unhappy with a deal that kept tax cuts in place for wealthy households, he said Obama agreed to pay a ransom to get legislation that Republicans would support.
He says job creation is his top priority, and on his website says he voted for legislation that saved or created more than 3 million jobs, although double-digit unemployment continues in the Los Angeles region. He touts his opposition to the 2008 Wall Street bailouts, and his advocacy for public lands, including funding for the Santa Monica Mountains, a popular playground that borders Los Angeles.
Earlier in 2012 he pushed legislation to levy sanctions on all Iranian banks, part of a sweeping effort to push the Obama administration to further squeeze the Islamic republic's economy and force Tehran to abandon its nuclear program.
He earned a 100 percent rating from the Human Rights Campaign, an advocacy group, for his record on gay rights.
Sherman led criticism of a 2009 deal to provide American nuclear technology to the United Arab Emirates, saying the UAE needs to take stronger action to stop the flow of dangerous shipments to Iran. He urged President George W. Bush to adopt a harder stance against Iran, saying the state sponsors terrorism and that its support for groups such as Islamic Jihad and Hezbollah threatens the prospect of peace in the region.
Sherman also opposed loans to Iran by the World Bank. He introduced legislation that would provide assistance to Iran's democratic opposition and impose a total embargo on the country's exports.
Source: Associated Press