Brad Wenstrup
House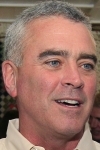 Birthdate: June 17, 1958
Birth Place: Cincinnati, OH, United States
Residence: Cincinnati, OH
Religion: Roman Catholic
Gender: Male

Candidacy
Party: Republican
State: Ohio
Office: House
District: District 2

Education
Undergraduate: University of Cincinnati
Degree: BS

Graduate: Scholl College of Podiatriac Medicine
Degree: MD

Brad Wenstrup was born and raised in the Cincinnati area, where he still resides. He earned a bachelor's in psychology from the University of Cincinnati and a medical degree from the Dr. William M. Scholl College of Podiatric Medicine in Chicago.
He operated he own practice in downtown Cincinnati, then after 15 years joined Wellington Orthopaedic & Sports Medicine.
Wenstrup joined the Army Reserves, serving as a combat surgeon during the Iraq War in 2005-2006. He worked at Abu Ghraib prison where he said he performed surgery on both U.S. troops and enemy combatants.
He married his wife, Monica, in May 2012.
Profile
Brad Wenstrup upset and unseated Republican incumbent Rep. Jean Schmidt in the March 2012 Republican primary for Ohio's 2nd District. Schmidt had held the seat since winning an August 2005 special election to succeed the GOP's Rob Portman.
Wenstrup was encouraged by Republicans in 2009 to take a longshot try at unseating Democratic Cincinnati Mayor Mark Mallory, but he lost the bid with 46 percent of the vote.
Tea party activists soon rallied around him and Republicans urged him to run for another office. Wenstrup decided to challenge Schmidt, who had struggled in earlier elections to hang onto the seat and had critics among tea party and other conservative activists in her own party.
Wenstrup's supporters ran radio ads during the 2012 primary that poked fun at Schmidt's habit of getting close to President Barack Obama during the State of Union address, saying she got a kiss in return for voting with the president.
Wenstrup pledged to take a tougher line on spending and the federal deficit, and said he brought business experience from running his own office and helping manage a larger Wellington business, with offices around the Greater Cincinnati region.
During a campaign swing through southern Ohio in May 2012, Portman joined Wenstrup, acknowledging that he had endorsed Schmidt and thought she had done a good job representing her constituents in Washington. But Portman said he had known Wenstrup for years, and felt that his medical and military background would be important in Congress.
Wenstrup has spoken often about the 2010 health care reform bill, opposing its insurance mandate and layers of bureaucracy. He says the bill was unaffordable and unconstitutional, and that a fresh look at health care reform that focused on patients and doctors was needed.
Wenstrup opposes gay marriage and is pro-life and pro-Second Amendment.
In 2006, Wenstrup showed up in the Cincinnati Enquirer in a feature in which readers were asked to nominate local doctors for the "Dr. McDreamy" nickname used in the "Grey's Anatomy" TV series. With husky build and close-cropped graying hair, he reminded some people of Cincinnati regional native actor George Clooney.
Source: Associated Press