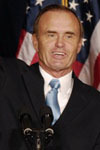 Birthdate: Jan. 28, 1951
Birth Place: Coronado, CA, United States
Residence: San Diego, CA
Religion: Catholic
First Elected: 2006
Gender: Male

Candidacy
Education
Brian Bilbray was born in Coronado, Calif., and now resides in Carlsbad. A lifelong surfer, he dropped out of Southwestern College to ride a motorcycle across the country.
Bilbray first gained public notice as an Imperial Beach lifeguard when he saved a drowning teenager. He was elected to the Imperial Beach City Council at age 24 and served as mayor from 1978 to 1985. He served on the San Diego County Board of Supervisors from 1985 to 1994.
Bilbray first served in the U.S. House from 1994 to 2000. He worked as a Washington lobbyist before winning election to the House again in 2006, filling the seat vacated by disgraced Rep. Randy 'Duke' Cunningham.
Bilbray and his wife, Karen, have five children, including three from Karen's previous marriage.
Profile
Brian Bilbray, the representative from California's 50th District, has made his name as a staunch opponent of illegal immigration.
Since 2007, he has been chairman of the House Immigration Reform Caucus, a group of about 100 members of Congress, nearly all Republican, who advocate for tougher immigration laws and enforcement.
During the 2012 campaign, Bilbray turned his focus more to jobs and the economy after once-in-a-decade redistricting forced him to run in an area further south into the city of San Diego. Republicans had an 11-point advantage in voter registration in his previous congressional district, which covered many of San Diego's northern suburbs. As of May 2012, Republicans had only a three-point edge in his new district, the 52nd District, which includes swaths of coastal San Diego, Coronado and Poway.
Bilbray easily finished first in the June 2012 primary with 41 percent of the vote, advancing to a runoff with moderate Democrat Scott Peters, an attorney and former San Diego city councilman who trailed with 22.6 percent of the vote.
Bilbray speaks often and passionately for a crackdown on employers of illegal immigrants and against amnesty for anyone in the United States illegally. He supported Arizona's 2010 law against illegal immigration and labeled President Barack Obama's June 2012 decision to grant work permits to some young illegal immigrants a "backdoor amnesty."
Bilbray has been an outspoken opponent of the 2010 health care reform bill, calling it a "massive failure of leadership."
In May 2012, he proposed creation of the Skin Cancer Research Fund to support studies by the National Institutes of Health. His daughter, who was diagnosed with advanced melanoma when she was 24, joined him to introduce the bill.
Bilbray's support in 1994 for Proposition 187, which denied some social services to illegal immigrants, helped him win his first election to Congress. He unseated Democrat Lynn Schenk in a conservative-leaning congressional district on the Mexican border.
Bilbray lost his seat in 2000, a year that saw a Democratic surge in California. He became a lobbyist in Washington, advocating for border and immigration issues, then won election to the House again in 2006. He filled the seat vacated by Randy "Duke" Cunningham, who was sentenced to more than eight years in prison after admitting he took $2.4 million in bribes from defense contractors.
Source: Associated Press