C.A. 'Dutch' Ruppersberger
C.A. 'Dutch' Ruppersberger
House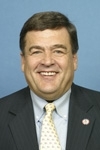 Birthdate: Jan. 31, 1946
Birth Place: Baltimore, MD, United States
Residence: Baltimore County, MD
Religion: Christian
First Elected: 2002
Gender: Male

Candidacy
Party: Democratic
State: Maryland
Office: House
District: District 2

Education
Undergraduate: Baltimore City College
Degree: Attended

Undergraduate: University of Maryland
Graduate: Univrsity of Baltimore
Degree: JD

Dutch Ruppersberger was born in Baltimore and lives in Baltimore County, Md. He attended the University of Maryland and earned a law degree at the University of Baltimore.
He worked as an assistant county prosecutor and spent 14 years in private law practice before becoming a member of the Baltimore County Council in 1985. He was elected to two four-year terms in 1986 and 1990. Ruppersberger was elected county executive in 1994 and 1998.
He was elected to the U.S. House in 2002.
Ruppersberger and his wife, Kay, have two children.
Profile
C.A. Dutch Ruppersberger, a Democrat who was first elected to the House in 2002, has received publicity more recently due to his position as ranking member on the House Intelligence Committee.
As a member of the committee, he viewed photographs of Osama bin Laden's body after he was killed in May 2011. In an interview with The Associated Press after he saw the photos, he described them as "graphic." But he noted that he has seen graphic photos of people who have been killed before, dating back to when he worked as a prosecutor involved in homicide cases.
"It wasn't anything really interesting," Ruppersberger said at the time. "It was just photos of bin Laden alive and photos dead and comparison of his facial features."
Ruppersberger said he had received briefings about the compound where bin Laden had been staying, dating back to February 2011. He also said he received a call from CIA Director Leon Panetta shortly before the operation.
Ruppersberger also briefed reporters in Annapolis in September 2011, after cleric Anwar al-Awlaki was killed. Ruppersberger at the time described al-Awlaki's death as "probably the second biggest blow to al-Qaida since the killing of Osama bin Laden."
In March of 2012, Ruppersberger and Maryland Sen. Ben Cardin announced that three major hotel corporations have agreed to participate in a program that allows American citizens to donate their hotel reward points to wounded service members and their families. Ruppersberger originated the concept in 2003.
Ruppersberger also has been a strong voice in encouraging better cybersecurity defense, both on Capitol Hill and from his position on the U.S. Naval Academy's Board of Visitors, where he has urged school officials to do all they can to improve training options.
Ruppersberger voted in favor of the March 2010 health care bill. "No legislation is ever perfect, but this bill met my expectations on my three top concerns _ cost, the well-being of seniors and young people, and protection for small business," he said in April 2010.
Ruppersberger co-sponsored legislation in March 2009 to tax bonuses given to American International Group executives at 100 percent.
"Using taxpayer funds to pay out multi-million dollar bonuses to AIG executives who drove the company into the ground is absolutely outrageous," Ruppersberger said. "It is immoral, fiscally irresponsible, and downright greedy."
He voted for the $700 billion financial rescue bill in October 2008, calling it an investment in the nation's future. "It's not a bailout," he said.
Source: Associated Press