Candice Sue Miller
House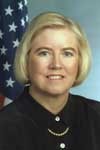 Birthdate: May 7, 1954
Birth Place: St. Clair Shores, MI, United States
Residence: Harrison Township, MI
Religion: Presbyterian
First Elected: 2002
Gender: Female

Candidacy
Party: Republican
State: Michigan
Office: House
District: District 10

Education
Undergraduate: Macomb County Community College
Degree: Attended

Undergraduate: Northwood University
Degree: Attended

Candice Miller was born in St. Clair Shores, Mich., and now lives in Harrison Township. She attended Macomb County Community College and Northwood University.
Miller grew up working in her father's marina and became an avid boater.
She was elected secretary of state in 1994, becoming the first woman to hold that post, and she served until her election to the U.S. House in 2002.
She is married to Donald Miller, a Macomb County Circuit Court judge, and has a daughter from a previous marriage.
Profile
Candice Miller is a feisty defender of the 10th District's military ties and the auto industry on which Michigan relies. She has been a generally reliable vote for the GOP.
Miller supported President George W. Bush's handling of the war in Iraq and the 2003 Medicare reform bill.
During the often-contentious debate over the 2010 health care reform bill backed by President Barack Obama, Miller called the legislation "a jobs-killing, tax-hiking, deficit-exploding" bill.
She hasn't always toed the party line, however.
Miller voted in 2005 against the Central American Free Trade agreement negotiated by the Bush administration because she said it could hurt sugar growers in her district. She refused in 2008 to support Bush's $700 billion financial bailout of the financial sector, although she supported a spending bill that included $25 billion in loans for U.S. automakers and suppliers.
Miller positions herself as an advocate of personal privacy and gun ownership rights and as a fiscal conservative who opposes abortion except to save the life of the mother.
She backs wetlands and woodlands preservation and measures to protect the Great Lakes, including efforts in 2010 to prevent the potentially dangerous Asian carp from invading the lakes.
In 2011, she voted against a measure seeking to extend the National Flood Insurance Program, calling the program a "boondoggle" and saying it needs to be eliminated.
During a 2012 hearing on the Department of Homeland Security's system for tracking when immigrants leave the United States, Miller noted that since 2001, 36 people who overstayed their visas have been convicted of terrorism related charges.
"We have to recognize that we do have this problem," Miller said. "The truth is, in the 40 percentile of all the illegal (immigrants) are in this country on expired visas. They came in right through the front door."
Miller won accolades during her two terms as secretary of state for updating technology, cleaning up the state's voter files, reducing lines and increasing the number of organ donors in the state. She won every county in Michigan when she was re-elected in 1998.
Many thought Miller would be a solid candidate for governor in 2002, but then-Gov. John Engler asked her to step aside to avoid a bruising primary with his chosen Republican nominee, Lt. Gov. Dick Posthumus.
Miller instead ran in the newly created 10th District that was drawn by the Republican-controlled state legislature.
The House ethics committee admonished Miller in 2004, along with then-House Majority Leader Tom DeLay, for improperly trying to influence Rep. Nick Smith to vote for a Medicare bill. However, the committee noted no pattern of misconduct on Miller's part.
Source: Associated Press